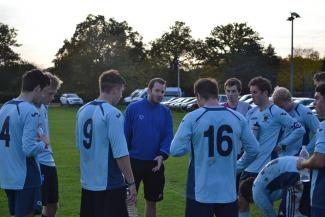 Kingston football seconds remained unbeaten this year despite having their 'worst performance of the season' when they drew 2-2 against Imperial College thirds at Tolworth on Wednesday.
Both sides lacked precision and creativity, making it a very stagnant and forgettable encounter.
"Today we couldn't play football at all. Usually we have a good passing game, keep it on the floor, but today we just couldn't do that," said Kingston captain Jamie Feek.
Bad start
The game started badly for the home side, and Imperial College wasted two good opportunities to go ahead in the early parts of the match.
However, after 20 minutes, thanks to bad communication in Kingston's back row, Imperial College put themselves ahead when Michele Tonutti put the ball in the back of the net. During the following minutes IC botched several opportunities to put the game out of reach, including two shots that smacked of the post.
Turnaround
Two minutes before half time KU striker Alex Rossler levelled the game after heading the ball home following a corner.
For a few moments it seemed as if the half time hairdryer treatment from the KU coach, who labelled the first half as 'the worst game in four years at Kingston', rekindled the team's spirit.
A shot from 25 meters by Kingston's number seven, Sam Guest, gave the home team the lead after 70 minutes.
Outstanding goalkeeping
The turnaround seemed to ignite a spark in the Imperial College players.
The Kingston goalkeeper Nick Collins made several outstanding saves, but caved in to the pressure five minutes before full time when IC's Robert Maizonnier equalised from a corner.
"It was our worst performance of the season. We never really woke up. It was a really scrappy game and it's disappointing that we couldn't pick ourselves up, said Feek.
"But we're still unbeaten. We just have to pick ourselves up and make sure we win the next game and go on to win the league. I know we are more than capable of doing it."