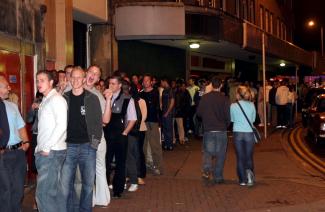 Oceana finally closed its doors only to re-open under the name Pryzm.
It's undergone a re-branding, re-vamping and a strong marketing campaign to convince us that everything is different and better now.
Forgotten is the murder of Jamie Sanderson, forgotten is the frequent violence in the club, forgotten are the disturbances caused to local residents from hundreds of clubbers stumbling back home.
Because Pryzm is different, it's classier, it has an over-21 room and you can even order your drinks from your smartphone without having to queue at the bar.
But does a £1 million makeover and a good marketing campaign mean it is going to be any different? Yes, they have worked on security over the past year. Crime was cut by 85 per cent in the venue and staff even got a pat on the back from the deputy Mayor of London.
Booze and violence
However, I don't believe that some new fancy furniture and a new name are going to make a difference.
As Paul Jacobs, the coordinator of the Kingston Street Pastors said: "When you have the number of people who come into Kingston there's always going to be incidents when there is alcohol involved."
Just the other week I saw a young man getting beaten up by two other men outside the venue.
Now of course everyone likes a good night on the town, but we already have so many other late night venues in Kingston.
Community
One can wonder what the Council was thinking when it renewed the club's license.
The venue itself is beautiful and is a grade two listed building which was previously a cinema and theatre. Surely such an iconic building could be used as something more than just another nightclub.
Maybe what Kingston needs is a venue that offers more than boozing and dancing and brings more to the community.
A space that could reconcile students and local residents and show the positive impact young people could have on the local area instead of them seeing us as just noisy drunks stumbling home at the weekends.