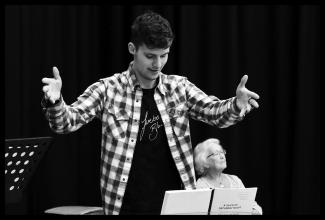 A Kingston University student recently musically directed a Youth Theatre adaptation of a famous musical about teenagers in the 60s.
James Hall, a 19-year-old combined dance and music student, went through an eight week rehearsal process to prepare for A Slice of Saturday Night. The production went on stage at the Hampton Hill Playhouse last week.
The young music director said that the preparation had taken a lot of hard work: "There were 30 songs in the musical, they make up about 90 per cent of the whole show – the actual script is only a few pages really.
"Obviously my first job is to audition people for all the different characters. I spent six weeks just recapping and teaching music, then the director came in and started blocking the scenes and fitting all the music with the storyline."
A Slice of Saturday Night is a musical written by the Heather Brothers about a group of teenagers that go to a club called 'Club-a-Go-Go' in 1963. Through 60's music, the musical deals closely with all the stereotypical things that teenagers experience.
"There are lots of little stories going on all at the same time," explained Hall. "It's not a serious piece – it's comedy, and I like it a lot for that. It's not 'over 18' content."
The music director was not the only KU student involved – three drama students auditioned and landed main roles in the musical.
The young cast members were able to put everything together by themselves, making it a true group effort. "When you work with a group of people, you become a family," said Hall.
"We're all very supportive and we're all equals. Everyone pulls together and does something to help out – we're a unit. I'm definitely going to have post-show blues when this is all over."
The production received excellent feedback, selling about 400 £10 tickets.