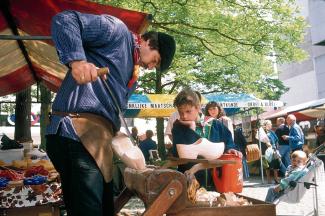 The Netherlands is not only attracting students for a rock'n'roll weekend fuelled with drugs and prostitutes, it is also a top destination for UK MA students because of the low tuition fees.
Saddled with a huge debt from undergraduate degrees, students are finding the thought of adding to their financial burden a worrying prospect, and are looking for alternative options.
Nikki Smith, a third-year law student at Kingston, said: "If I was going to do a masters I would do it abroad. I've looked at the Netherlands' institutions and they are charging about £1,500 for tuition fees rather than the £8,000 or so here, so if I was going to do a master's I would do that."
Dutch Universities charge around £1,500 for a Master's degree, as opposed to KU where fees vary from around £8,000 for a law degree to £5,800 for forensic science.
Compared to other universities, KU is a cheaper option for graduates, as institutions such as the London School of Economics have tuition fees that can be as high as £20,000.
Discounted fees for KU alumni
The Netherlands has courses in both Dutch and English, and was the first non-native English speaking country to do so.
Laura Derske, a spokeswoman for Radboud University in the Netherlands, said: "We are getting more and more UK students here at the University every year, and we currently have 17 UK students studying for a master's here at the moment."
Getting funding for a postgraduate course in the UK is not as straightforward as for an undergraduate degree, but KU alumni can get a 10 per cent discount if they study for an MA at Kingston.
A general law MA at KU will cost £7,200 with the discount, which is still a lot of money for many students.
Nicholas Finter, 21, a third-year forensic science student, said: "I'm fortunate in the sense that I am a third year so I'm on the lower fees, but I wouldn't be able to go on to do an MA if I was being charged £8,000 – it would be out of the question for me."
Subsidised fees
The reason for the lower tuition fees in the Netherlands is because they are heavily subsidised by the Dutch government to make sure that everyone gets the chance to study if they wish.
Martijn Gerritsen, a spokesman for Radboud University, said: "What is important is that the students who have the capacity for study get the chance to. We think it is really important that people who have got the capacities can go to college, even when they haven't got rich parents."
Even with cheaper tuition fees and a Dutch government loan, UK students will still have to find the money for living costs, which in the major cities such as Amsterdam is roughly the same as London.
To get the loan you have to have an EU passport and a Dutch address. You cannot commute from the UK, and the loan has to be paid back after three years at a low rate of interest.