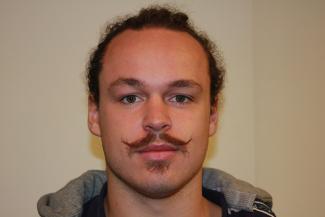 The handlebars, rock stars, truckers and wisps have been growing at Kingston University this month.
Moustaches have been warming the faces of Kingston students and growing alongside donations given for their dedication to the fundraiser Movember.
Jake Robey, 21, said: "The best part of having a moustache is being able to play with it, but it does get a bit itchy and in the way. It goes in your mouth and in your nose and bits and bobs like that. It is a bit annoying."
Mo-tivation
The human biology student added that the issues supported by the money raised during the fundraiser were Mo-tivation enough for him to take part and grow a moustache.
Men are encouraged to shave off all their facial hair at the beginning of November and spend the next 30 days growing the best moustache they can manage.
Since it began in Melbourne Australia in 2003, over three million people from all over the world have taken part in the fundraiser which raises money and awareness for prostate and testicular cancer, as well as mental health.
Money raised so far
Business IT management student, Aaron Ghai, 24, joked that the best part of having a moustache was that he actually looked his age.
Students Dave Roberts, 35, and Joe Ferris-Moore, 24, have had donations 'stache up to £200 so far and are hoping to raise even more.
They said that apart from wanting to raise funds and awareness for a good cause, Movember was especially relevant to their course as they are studying radiography.