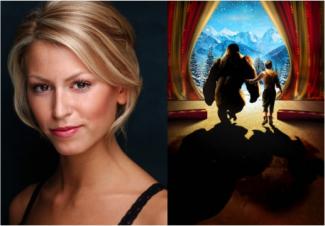 For actor Lucy Hope-Borne, performing has not always been a dazzling experience.
She laughs when asked what her worst Christmas memory is and says, very embarrassingly, that it is falling over in a panto.
Instead of the final kiss, the audience got the pleasure of seeing her "awfully large" knickers.
"It was supposed to be a romantic scene, but I don't think the audience found my knickers very romantic," she says uncomfortably.
Surprisingly, the experience did not put Hope-Borne off acting, but she is happy that The Rose has selected a different approach to Christmas than a normal panto this year.
It is the first day of rehearsals, and Hope-Borne is strictly ordered by her stage director "not to stay long" when she comes over to talk to me about The Snow Gorilla, which is this year's Christmas show at The Rose.
With hopes for fewer knickers, and more Christmas magic, Hope-Borne describes the show as "Cirque de Soleil meets West End" and says that it is going to be truly magical.
A Christmas Circus
The Snow Gorilla tells the story of Sunny, who is a new member of the circus. The boy falls in love with the ring mistress's daughter (Hope-Borne) and finds a friend in the snow gorilla, the hidden secret that is locked away within the circus because he is thought to be dangerous.
The show is set in a circus in Spain in the 1920s and has an important plot that will enchant an older audience, Hope-Borne says.
"It brings out the Christmas spirit in people I think, at least if you haven't got a heart of stone," she says. "It is a special and unique show."
Joanne Heywood, who plays the ring mistress, jokes that this is her first time owning a circus. "Yeah, you heard right," she laughs. "There are no misters in this show. Having a ring mistress instead of a mister, is just one of many things that The Snow Gorilla does differently.
Before dashing back to rehersals, Hope-Bourne said:
"Without revealing too much, the show ends on a cheerful, surprising note that wishes people a merry Christmas."
The Snow Gorilla opens at The Rose theatre in Kingston upon Thames on November 29 and will run until January 5.