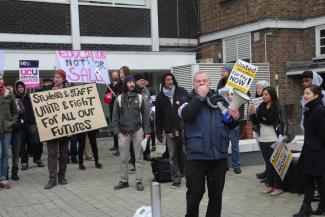 As staff and students walked out today over a continuing row over pay cuts, Vice Chancellor Julius Weinberg said that some of the University and College Union's positions are "deeply flawed".
Protestors picketing outside Knights Park campus attempted to stop the Vice Chancellor as he walked into a public meeting to make him address their concerns.
Professor Weinberg said: "UCU's position on universities' financial position is wrong, simply naïve.
"We have about £110 million in the bank. That seems like a lot of money but we are going to spend most of that just doing catch up."
However, union members argue that universities can afford to raise salaries as they have amassed a surplus of more than £1.1 billion.
Simon Choat, UCU membership secretary and politics lecturer said that Kingston has the money to improve staff's conditions.
He said: "They're planning to demolish the town house and build a new building there and I'm not saying it's not a good thing, it will be a nice new building, but obviously they have the money to do that so they should have the money to not cut staff pay."
Working to contract
Nationwide union action began in October after lecturers were offered a one per cent pay rise which staff say is under the inflation rate and amouts to a pay cut.
Unions have vowed to continue strike action and to continue working to contracted hours until they receive a better offer from employers, meaning student assessments could be marked late.
"The average lecturer is probably contracted to 37 hours a week but around 30 per cent of staff across the nation are working over 50 hours a week," said Choat.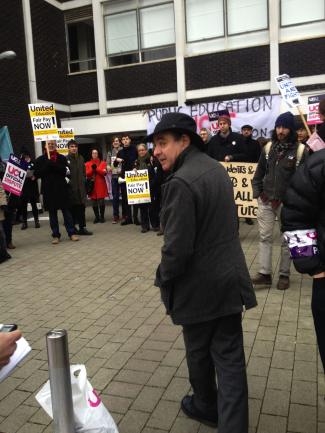 However, Weinberg said he didn't think there was currently a solution to the issue.
He said: "The current UCU demand is for more than one per cent and the current position of the Universities and Colleges Employers association (UCEA) and the university is that it won't be more than one per cent so I don't think it will be resolved."
Lecturers said they hoped today's strike would have a larger impact and would bring the employers back to the table. The also hoped to get more support from the student body, although the Student Union remains neutral.
Although more staff and students participated in today's strike there was still a small number of protesters outside the campuses. And the majority of students crossed the picket lines.
Casualization of labour
Stella Sandford, a UCU member and lecturer in philosophy said the issue was more than a pay dispute: "It is part of a larger problem of casualization of labour and Kingston has more staff on zero hour contracts than any other university in the country. Zero-hour contracts are obviously very exploitative and it effects student's education," she said.
The Vice Chancellor, however, argued that zero-hour contracts are in demand from staff. "I think the simple 'zero-hour contracts are bad' discussion is a rather naïve one.
"I think you need an intelligent debate. We are a university, we should have an intelligent discussion not a flag waving, get rid of X, without thinking that it actually gives some people flexibility," he said.