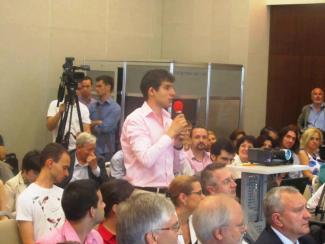 The most watched Bulgarian TV channel was on campus last week filming a KU student for a news report comparing Bulgarian universities with those in the UK.
BTV filmed Bulgarian student Dimitar Dimitrov the entire day, including a special lecture he organised and hosted about the recent political turmoil and mass student protests in his native country.
Maria Savkova, BTV news reporter, said: "Young people in Bulgaria have decided to continue their education not in Bulgarian universities but rather here in the UK.
"So we are comparing the situation and why those students decided to study here in the UK and also whether they will come back to Bulgaria when they graduate."
The channel, which has a 40 per cent market share in Bulgaria, chose Dimitar after he impressed journalists with his strong opinions regarding the current political situation in his country.
Bulgarian students in the country's capital occupied lecture rooms for over a month in protest over the appointment of media mogul Delyan Peevski, as head of national security.
Political crisis
Dimitar, a third-year international relations and politics student, said: "Two weeks ago, they asked me to come on one of the morning TV shows and put me on a live interview via Skype.
"They asked what is the position of Bulgarian students aboard who see these occupations happening in the country's universities.
"I said I do support them. This guy is the equivalent of your Rupert Murdoch. He owns a lot of TV channels and newspapers. He was the reason that all these protests started back in the summer."
The political crisis in EU's poorest state started in February after mass protests over poverty and corruption forced the sitting government to resign.
Despite early elections in May protesters have again taken the streets of Bulgaria demanding the resignation of the new government.
On the lecture filmed for the channel, Dimitrov said: "We wanted to touch upon the recent political turmoil in Bulgaria and discuss something that is not very high on the agenda of the British media.
"We wanted to let people know what is happening in the new EU member state. There really were no lectures and no seminars, nothing was going on in these universities for more than a month."