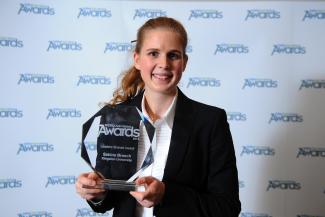 A KU aeronautics student has won the Leader of Tomorrow category at the prestigious 2013 Automotive Supply Chain Awards.
Sabine Brosch, 23, earned got recognition for her efforts in building a prototype of an electric racing car, which will be raced at Silverstone.
She said: "It's really great to get credit for something you have worked hard for.
"The team I worked with at Kingston University and I put a lot of effort in during the weeks leading up to the competition."
The award aims to encourage students under 30 to consider a career in car engineering.
Future opportunities
Course director Gordana Collier noticed Brosch's enthusiasm and nominated her for the Formula student project.
She said: "I am very proud of Sabine and very happy for her – this award should motivate her to continue with her hard work and succeed in building an interesting and fulfilling career."
Brosch, who is in her final year at university, is considering working in the motor industry.
She said: "I'd like to work for any of the big automotive manufacturers, really. BMW would be a great goal."