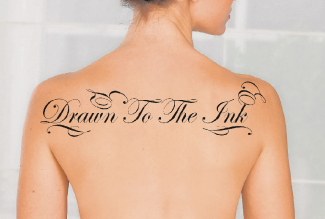 Lucky Diamond Rich is not your everyday Australian. Rich, whose real name is Gregory Paul McLaren, holds the Guinness World Record for the world's most tattooed person and has an impressive – and no doubt painful – 100 per cent of his body covered in tattoos.
Although there's no-one quite like Rich in Kingston, students across the UK are said to be going under the needle more than ever with statistics showing almost a third of 16-44 year-olds have at least one tattoo. So what changed from tattoos being associated with bikers, gangsters and pirates to accepted pieces of art covering pop stars, footballers and even the Prime Minister's wife?
'Edgy image'
"I think people like to portray a more 'edgy' image as a small tattoo is now considered an acceptable rebellion or an expression of a wild streak," said third-year KU psychology student, Jolie-Marie Trahar. "They are now a product of our culture and it is difficult to be so negative towards tattoos now so many people have them."
Jolie, 20, has 15 hours' worth of body art including a teacup and Snow White on her arms, a rose on her kneecap and half of her back done. "They're just what I like and what I want to portray to the world," she said. "I have always seen myself as a heavily tattooed person – it's in my blood. I don't see much point in skin if it's not tattooed."
Former KU student, Anthony Hamilton, 20, admits he is hooked on them. "I love the way they look, the fact that they're permanent and they can completely reflect what type of person you are.
"It also makes people second guess their predispositions if you're covered in tattoos but you're a nice guy."
So it's an image thing? "Sort of. Personally, I like the way they look and that's why I get them. I think when people see you have them they jump to the conclusion that you're angry or weird or unapproachable. It shows you shouldn't acknowledge stereotypes."
Celebrity impact
This 'tattoo-stereotype' has changed, partly due to the popularity of them among celebrities. One Direction are known for their inked skin and have over 45 between them. Justin Bieber, Wayne Rooney, Rihanna, Robbie Williams, David Beckham and Johnny Depp are all known for having several – the celebrity list is virtually endless. Cheryl Cole's giant rose tattoo almost led to an internet breakdown earlier in the year as rapper Lethal Bizzle tweeted what everyone else was thinking: "(It) looks like an ironing board cover".
Rather than celebrities known for their tattoos, Rick Genest has turned into a celebrity because of his tattoos. The Canadian 'living skeleton' holds the World Record for the most insects and bones tattooed on a person and has appeared in several fashion campaigns, featured in a Lady Gaga music video and posed for GQ, Vanity Fair and the front cover of Vogue Hommes Japan.
So what came first: the tattooed celeb or the tattooed society?
"I think celebrities have definitely had an influence as it used to be looked down upon," said Anthony. "However, society has changed as a whole. There's a higher level of acceptance of body modification now."
Cost and regret
However, it's not all rosy in the world of body art. Statistics from the British Association of Dermatologists' in 2012 found nearly a third of people regret getting a tattoo and, in America, the number of people having laser removal increased 43 per cent between 2011 and 2012.
Kingston therapist, Janine Miller, believes society gives conflicting messages. "Some parts of society think it's cool and others think it's awful. I don't believe there is a right or wrong impression about tattoos, but there are different views.
"I see them as being on a spectrum, with it being something enjoyable on one end to becoming an obsession on the other end."
An obsession felt by Anthony? "Well, I have six at the minute but plan to get a lot more. I really like the idea of being covered, not so much the face, but a full body suit looks pretty sweet. The only thing holding me back is the cost."
In terms of price, tattoos range heavily. Unsurprisingly the larger the tattoo, the higher the price, as it will take the tattooist longer. You can get them done by professionals for as low as £25, although you are taking a gamble on quality. On average, prices are around £80-100 an hour – laser removal is even higher.
Racheal Hardy, 19, is a second-year English Literature student and has had five tattoos in a year-and-a-half. "I got so nervous for my first one. I didn't eat anything and I felt awful," she said. "I'd planned it for ages but after it I was more relaxed and the others I had in close proximity. I wouldn't say I'm addicted though – you've got to have the money first."
However, Kingston film studies student, Zavier Bailey, 21, said rather than the cost it's the hours in the chair that count. "I don't count individual pieces, I count the hours' worth of work. One sleeve tattoo could be composed of many individual ones. Mine are overall probably worth a couple of thousand.
"They're either a part of your lifestyle or they aren't. I like my designs because they represent me."
'Disgusting'
Tattooing is not for everyone and there are still many people who disagree with them, as Jolie once found out: "There's still negativity, especially towards heavily tattooed women and the placement of them. I once had an elderly man cycle past me here in Kingston who shouted 'disgusting' at me."
Although there are still those who disagree with covering the body in ink, the public have gradually become more accepting. "They are more popular now which has made me more comfortable to get a bigger tattoo," said third-year mental health nursing student, Rosie Hilton, 22. "I didn't know anyone who had one when I got my first, apart from my dad."
A form of self-expression or just image driven, tattoos will continue to divide opinion. With the BBC's political presenter, David Dimbleby, getting his first tattoo last month at the age of 75, maybe it's not just students who are choosing to go under the needle. So, whether it's a football club's badge, lyrics, animals or just personal memories, the tattoo will continue to be popular – although it will probably live longer on the skin than in fashion across society as a whole.