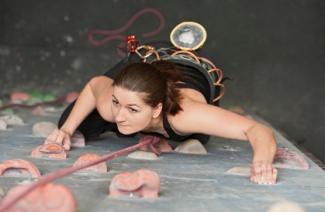 The Kingston University Mountaineering Club is to climb into the stratosphere in January to raise money for charity.
After climbing the distance equivalent to the height of Mount Everest last year, the members are pushing themselves even further and hope to cover the 10-13km in under 12 hours.
Lauren McCormack, President of the Kingston University Mountaineering Club (KUMC), said: "During a committee meeting we joked about climbing to space. We investigated this and figured the stratosphere would be an achievable target to reach."
More challenging
Last year the society climbed 11,220m in 12 hours, raising over £800 for the Surrey Air Ambulance.
With the height of Mount Everest 8,848m, not only did they exceed expectations but, if they climb the same distance this year, they will have reached their 10-13,000m target.
"Last year we absolutely smashed it and were looking for something more challenging for our members to take part in since we exceeded our target last year," said McCormack.
Over 20 members took part last year and the society will need just as many for 29 January 2014 when they take to the climbing wall for the challenge.
Raising money rather than breaking records
With only 11 signed up so far, the society are looking for members who have passed the White Spider competency test in order to enrol.
Ed Wong, KUMC member, said: "Next year we hope to take things one step further and climb to the stratosphere. The aim is to raise awareness and money for our chosen charity – Mountain Rescue England and Wales."
McCormack added: "We haven't looked into records or anything – we're just looking to raise money. The main reason we're doing it is for charity."