An annual charity music festival is being held in Kingston town centre this weekend to raise money for Oxfam.
Oxjam, which is organised by volunteers, is run in multiple locations across the UK each year to raise money to fight poverty and suffering and bring gig-goers closer to Oxfam's work.
From 6 pm on October 17, live performances from selected musicians will take place at the Fighting Cocks, The Cricketers and Kingston Mill.
Third year journalism student Megan White is organising the event. She said: "As a Kingston resident and music fan, I jumped at the chance to combine my passions with helping people who need it the most in some of the poorest parts of the world.
"Oxjam Kingston Takeover 2015 is taking place across three of Kingston's best venues and showcases some of the area's most talented musicians."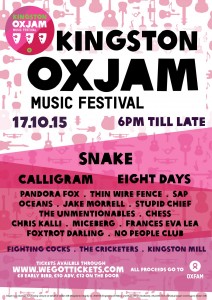 The line-up for the event includes Snake, Calligram, Jake Morrell, Eight Days, Pandora Fox, Thin Wire Fence, Sap, Oceans, Miceberg, Stupid Chief, The Unmentionables, Chess, Chris Kalli, Miceberg, Frances Eva Lea, Foxtrot Darling and No People Club.
25-year-old Folk-Rock artist, Jake Morrell, said: "I'm really looking forward to performing at Oxjam 2015, it's going to be great fun and it's for an amazing cause.
"I've been around music all my life, both my parents are keen singers. I kicked off my journey on the theatre stage and then swiftly moved into songwriting after I picked up my brothers guitar at the age of 16."
There have been over 5,000 of these events, 55,000 participating musicians and £2.5m raised for the charity since it first started in 2006.
Over the years Oxjam has gained support from celebrities such as Jarvis Cocker, Fatboy Slim, Damon Albarn and 2manydjs.
Duo Adam Green and Brittany Rex, known on stage as Foxtrot Darling, said: "We've been involved in Oxjam for two years running now. It is such an amazing opportunity to hear local bands and artists in a festival type setting, all for a brilliant cause".

Tickets are available on the door priced at £12, at Banquet Records or online for £8.
For more information you can go on the website or Facebook page.
You can also donate here.