Kingston University's MA Fashion celebrated its 10th anniversary by showcasing collections of ten 2017 graduates in a diverse and creative fashion show at the new Design Museum in Kensington.  
The models strutted down the runway to music from Doris A Day wearing exclusive silk dresses, sportswear, fluffy coats and colourful dresses covered in Swarovski crystals on Thursday, October 19.
The 10 womenswear collections reflected on everything from identity and hope, to juxtaposition, emotions, culture and feminism.
Graduating student, Dardana Fjantio Etchike, took inspiration for her collection from the tradition of breast ironing in her home country Cameroon. The practice is carried out by teenage girl's mothers to prevent early femininity and protect girls from sexual assault and early marriage.
"The body should be free to grow and express itself. My collection is a form of protest against the practice. Their body is destroyed, that's why I had a lot of fringes in my collection and the girl's desire for freedom is expressed by lots of ruffles," she said.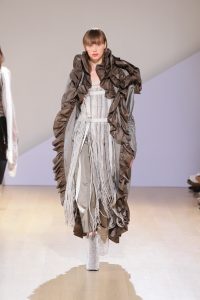 Etchike described her collection as a mix of the Victorian era and her tribal culture, wherein both cultures, women's bodies were used as objects according to the standards of culture and tradition.
It was the first ever fashion show to be held at the spectacular, spacious surroundings of the world leading, contemporary design museum's new location in Kensington.
The designers share common ground but brought individual design and original new ideas to the catwalk. They showed a diverse set of skills and techniques, with collections filled with unique identities and professionalism.
Graduating student Sanna Olsson showcased a personal and exclusive collection of detailed black and red dresses made of cruelty – free materials as bamboo, silk and linen.
"I looked into the history of both femininity and feminism, following their journey and relationship throughout times and reflecting on how it is portrayed," she said describing her designs.
"I name my dresses after females I admire. Every dress has its own story for me, that's why it's easy to see a personality reflected in them."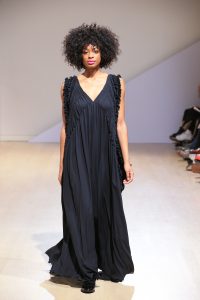 Coursemate Chaerin Lee had a different approach and focused on colours in her sportswear-inspired collection with which she aims to brighten people's mood.
"My aim is to design coloured sportswear to make people feel relaxed," she said. "I believe that colour is one of the factors that affect humans emotions."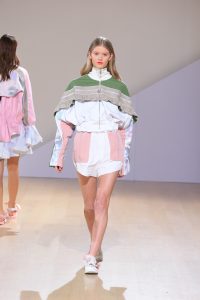 As a response to the malaise of fashion today, the designers created wearable pieces of clothing for their graduate projects.
The 10 selected students, from an array of international backgrounds including Korea, Japan, China, Brazil and Sweden, showcased their projects to an invited audience. The special guests included Caryn Franklin, MBE and British Fashion Professor of Diversity in Fashion, and the Creative Director of Fashion Scout, Martyn Roberts.
The show was directed by course leader Richard Sorger and produced in collaboration with Kingston MA Curating Contemporary Design students.
See pictures of all the collections below.