Kingston University Women's Rugby Club (KUWRC) bravely stripped off on a cold December morning on Tolworth's Sports Ground in order to create their 2017 calendar, which is on sale now.
In aid of the Willow Foundation, fifteen players were snapped in the six photos in their changing rooms, tackling, and in 'traditional' team poses with rugby balls strategically covering their lady parts for modesty.
Finance officer Eleanor West, 21, said: "I was so proud of the team! A lot of them were freshers. We took the photos on a Saturday morning so we had to be careful of other teams and children.
"People have asked 'don't you feel embarrassed having your naked body out there?' But the photos are tasteful and having long hair covers you up. It's for charity so it doesn't matter. We're athletes! It's not like it's a porno!"
The team has raised £350 so far for the St Albans-based charity. The funds are donated to 'Special Days' for seriously ill 16-40 year olds, allowing them to spend a day out doing an activity of their choice.
"The charity is close to my heart. I know a woman who the charity helped. If you're suffering from a serious illness you can't work. Finance can be a bit of a strain if you're supporting a family, so they can't afford treats like that. The charity gives people an air of normality," said Miss West.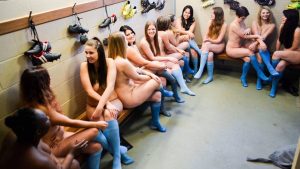 The calendars are priced at £5 and can be purchased at the Penrhyn Road shop, Knights Park Bar or directly through Miss West herself.
To donate to The Willow Foundation access KUWRC's JustGiving page.