KU student and Paralympian Sophie Kamlish received a certificate and gave a speech at the University's annual Sports Performance and Athletes Award Event on Wednesday 11th, hosted by the Sports Performance Programme.
Kamlish is a lower leg amputee who came fourth in the final for the T44 100m, the classification for those with a lower leg amputation, in the Rio Paralympics,
But during the heats in the morning to qualify for that final, she before broke the record for the T44 100m, and in September started studying an illustration and animation degree at Kingston University in September.
She was one of 33 students given certificates as recognition of their achievement of being on the Sports Performance Programme which has a range of different sporting disciplines the students compete in, including football, sailing, athletics, boxing, hockey, American football, taekwondo, weightlifting and rowing.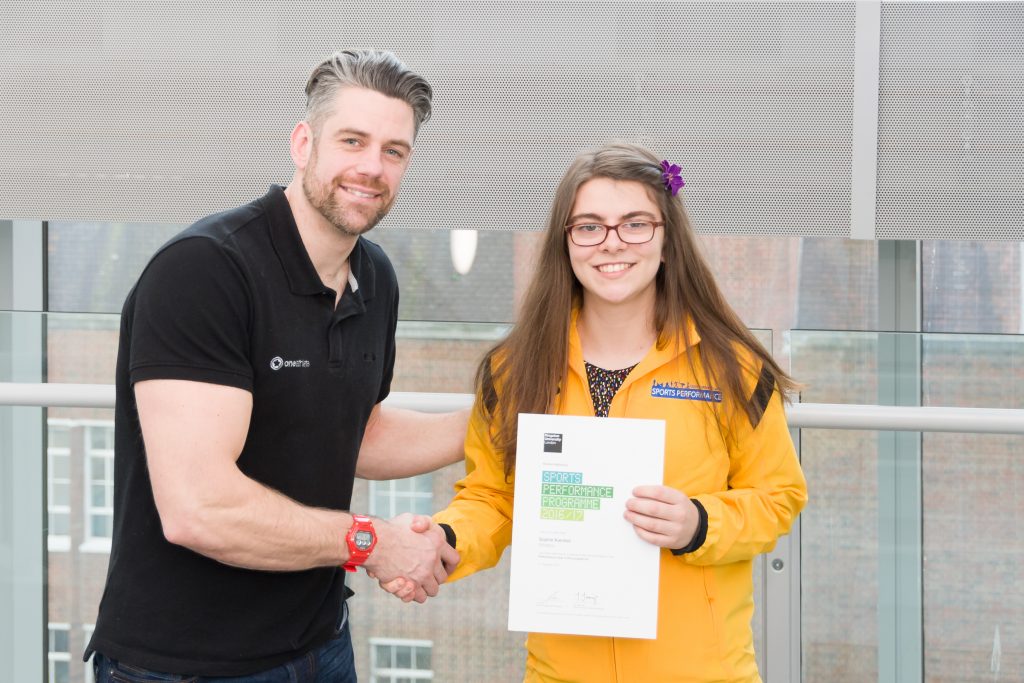 Kamlish, now 20, competed at London 2012  aged 16 with less than a year of training, yet revealed she wasn't nervous.
She said: "If anything I did better. I didn't let my brain get in the way of things. I wasn't really nervous. I don't really get nervous at all. If anything I want more adrenaline because I feel a bit bored or feel like I'm going to fall asleep in the box, a lot of the time I kind of feel numb.
"So that's kind of continued on, not feeling nerves, which is kind of weird. I know a lot of my friends and people I compete with get really nervous. I don't get any of that."
At Rio 2016, breaking a world record in the heats but failing to win a medal in the final has only served to fuel her determination to win in future competitions.
She said: "After such as incredible heat in the morning, not even getting a medal later that day was a massive blow.
"However I think it has made me a lot more determined to medal in the next major championships which is this year in London, the world champs, and come Tokyo 2020 when I'll be 24, hopefully I'll be in the best shape of my life and I'll be able to sing the national anthem from the top of the podium."
The Sports Performance Programme, which has been running for 20 years, first started in 1998 under the title of Talented Athletes Scheme and supports sports people at Kingston University with balancing their sports and training.
Kamlish is on the top tier of the programme, the performance level since she's competing at an international level.
David Jackson, a former professional rugby player, handed students the certificates which can also be used as evidence for HEAR (Higher Education Achievement Report) and Kingston Award accreditation.
David Jackson presenting Sophie Kamlish with a certificate
Jo Heath, sports development manager, Student Wellbeing, Kingston University said: "It is my job to support all talented athletes that have chosen to study at Kingston University and help them balance their demanding sporting career with their academic schedule.
"This may include helping arrange academic flexibility, giving advice on the latest anti-doping regulations, signposting to sports therapists or simply being a person that they can come and talk to.
"I am thrilled that five of the eleven athletes on our 'performance level' tier of the scheme this year are women, as we are on a mission to inspire all female KU students and staff to take up a physical activity as part of the national 'This Girl Can' scheme."
Olympian Asha Phillip who graduated from Kingston University in 2012 with a drama degree, won bronze in the Women's 4 x 100m relay in the 2016 Olympics and was due to give a speech but had to cancel to attend a training camp abroad and a video interview with her was played instead.
She gave praise to the programme but said her greatest inspiration of all was her family.
Phillip, 25, said: "The support that I had from my family was incredible. My family are my number one rocks and they know deep down how much their support means to me and how far I've come because of this. They're my backbone. I'll always call them my rock."