Already the university's highest ranked sports team, Kingston's American Footballers are this year aiming to go one better and become the best in the country
It is a Tuesday evening and 40 or so keen and committed students are preparing to sit down for two hours to meticulously watch and study video footage of themselves.
The Kingston University American football team proceed to go over the weekend's training session, looking at what they are doing right, where they are going wrong and how they can improve ahead of the season opener against Birmingham University on November 6.
This is a team who this year plans on being the first ever KU team to become BUCS Premier Division champions.
The weekly video session is run by the club's head coach, Nate Wilson, and assistant head coach, Conan Jal, two men who are determined to see their team reach the pinnacle of university sport.
It is no exaggeration to say that this feels less like a university team and more like a professional one the way it is run.
The team is made up of around 80 players and 21 coaches, and from its creation six years ago by a handful of KU students, of which Wilson himself was one, the team has grown in size and ability.
They have climbed up the BUCS ladder culminating in last season's debut in the BUCS Premier Division.
"Our goal is always to be the best team in the championship. We want to be national champions and lift that trophy at the end of the season," says Wilson, with such calm assurance that you would not want to argue with the man.
The team finished the regular season with a respectable record of four wins and four defeats which comfortably qualified them for the playoffs where they went out in the first round to Durham.
The championship was won by Birmingham University who finished the season unbeaten, winning all eight of their league games before they tore through the playoffs on route to lifting the cup.
After being humbled 36-0 in Birmingham last November, KU welcomed them to their home ground in Tolworth back in February.
They ran the Midlands team painfully close, losing by the scarcely believable scoreline of 2-0, suggesting the gap between the two teams may not be as big as it seems.
Star player, Tim Thomas, traditionally a wide receiver but this year a designated utility man who will operate in a multitude of positions on the field, including safety and cornerback, saw last year's nail biter with Birmingham as proof that the Cougars can make history come March 2017.
"It was a neck and neck game, one mistake led us to 2-0 and they went on to win the championship so realistically we are looking at winning the whole thing this year. If we kept them to just two points, there is no reason we can't," said Thomas, who as well as being a KU Cougar, is also one of two squad members who play for the Great Britain national team.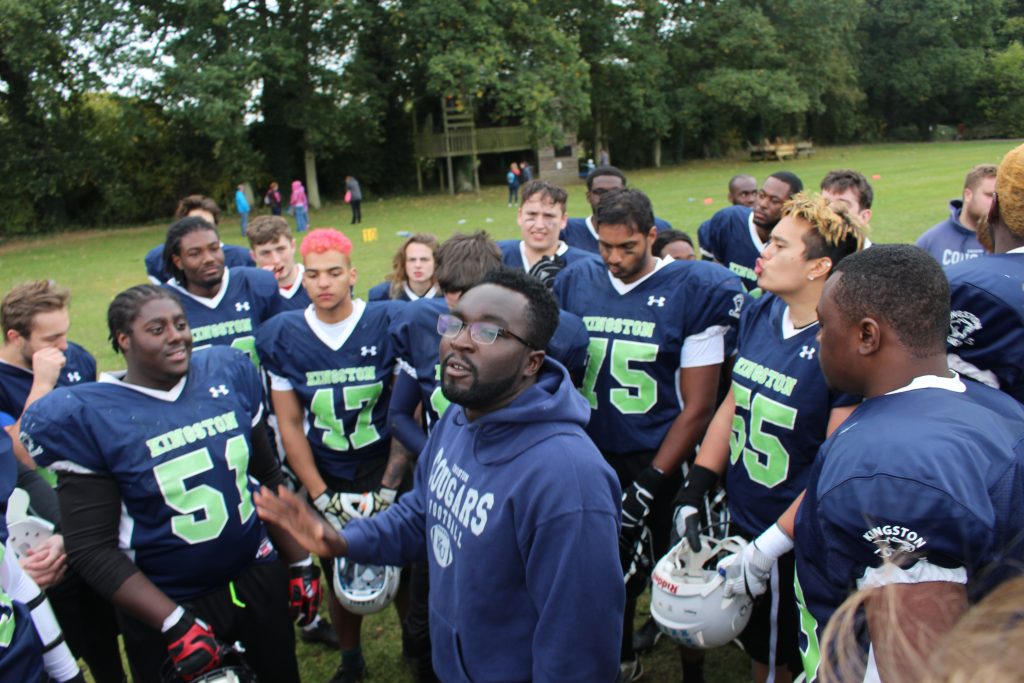 KU's American football team are no strangers to having talented players on their books. Former KU student, Efe Obada, reached the very top of the sport and played in America's National Football League (NFL) for the Dallas Cowboys amongst others.
But before he was a Cowboy he was a Cougar.
Jal and Wilson are constantly trying to unearth the next Obada and although they may be unable to entice students to come to Kingston the way Birmingham and Loughbourgh can, it does not stop them scouting for young athletes who might not have thought about enrolling at KU.
Jal insists that the class of 2016/17 is "the strongest squad" he has had in his four years with the team in terms of physical and athletic ability.
"We've been very lucky that Kingston has got a lot of very good athletes. You walk around campus and you just see athletes everywhere whereas at other universities it's just not like that."
KU is in a sense punching above its weight competing in the Premier Division of American football with established universities like Birmingham and Bath, who are given greater funding and can offer scholarships to young students to get them on board.
The team is trying to redress these differences this year and have new sponsors in The Orange Tree pub which has opened up its doors to the Cougars who will be congregating there after their games this season.
This season the team is also breaking new ground in that it has two girls on its roster in Holly Everest and Emily Rose.
Wilson believes it's "great" that the team now has females in the group who he said were "super keen" to get involved from the start.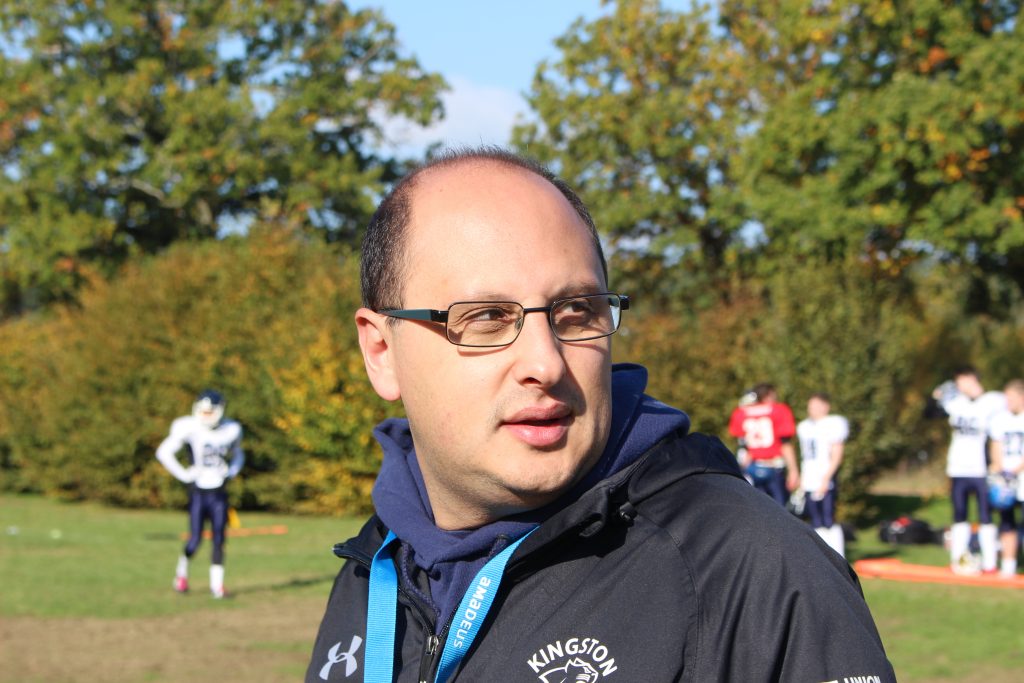 Coach Jal takes special pride in the team's tightness and its bond.
"One of the biggest things, from where they start with us to when they finish, is that the players grow into a family with everything they do at the university.
"Their best friends come from American football, their team mates are the guys they hang around with most on campus and it goes from there."
This American football family has already made history with its achievements thus far, but their journey is far from finished and this season could be the one where the team can finally lay claim to being the best team in the country.