Patrick McLoughlin, the Transport Secretary, has defended the up-to 2.5 per cent increase in train fares saying it's "regrettable but necessary".
KU students and staff commuting to university by train are facing increased travelling costs as a 12 month season ticket between London and Kingston will now be £2,898.70.
Mr McLoughlin told the BBC: "The truth is we're seeing the largest investment we've seen in the railways. Over the next five years Network Rail will invest over £38.5bn.
"I accept that 2.5% is more than the passenger wants to pay. Any increase is regrettable but it is a fact that we're investing record amounts into the industry so that we get better train services."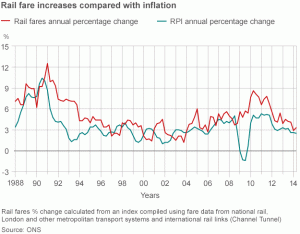 Third year English Language and Communications student, Ayanda Ndlovu, who travels to university twice a week from her home in Milton Keynes, previously told The River: "It's a total pain that there's further fare increases on top of previous ones.
"I can't see any improvements in the rail infrastructure that our fares are apparently invested into. I spend around £200 a month on traveling but if I lived somewhere I had to pay rent too I don't know how I would pay for it."
Additional reporting by William Lloyd