KU's Mann Kaur is one of six students who have been selected to work on a new app that will aim to transform the way students in London interact.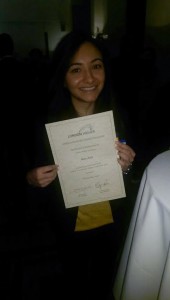 The 'London Is My Campus' project was launched by London Higher, an umbrella organisation of London universities. The app will seek to to offer students studying in the capital a new and easy way to access information about a number of different activities taking place across the city, from academic and social to cultural and leisure events.
24 London universities have already signed up to the project, including Kingston University. Kaur is a MSc student in User Experience Design at KU and will work on the user experience design of the app, or how the app behaves on the screen.
"I think the app will prove the student experience across London immensely," said Kaur. "We are looking forward to bring[ing] together the student community across London, thereby helping them in building a good network of people around them."
Kaur believes that the app will help students socialise across different London campuses, and also offer more opportunities to network for work experience and job opportunities.
London Higher launched a competition in September to select a group of students to assist in the designing and shaping of the app.
Students across London applied by sending in a two-minute video application that outlined their ideas, skills and experience.
https://www.youtube.com/watch?v=kXh1mpHi5Co
Kaur was selected by a judging panel in November and invited to attend a workshop with other chosen students where they created the app concept with the guidance of expert mentors. Kaur said this is what prompted her to apply for the competition as she was excited at the prospect of "learning from the experience of people who [were] already in the industry for many years" and gain insight into the future of technology and mobile phones.
The final concept for the app has now been showcased online (see below) and 'London Is My Campus' is set to launch in June 2015.
"It has been a wonderful journey so far," said Kaur. "All the winners are incredibly enthusiastic and hardworking. Each one brings something new to the team. [I'm] hoping that we work well together in the coming days and build an app that we can be proud of."
'London Is My Campus' aims to transform the way London's estimated 380,000 university students interact with each other, creating opportunities that will enrich and broaden the student experience.
To many who arrive in the capital for university, the city can often seem daunting. The creators of London Is My App hope to create something that will enable all London students to feel as though they are part of a community for the first time.