Kingston University Fashion BA student, Nikoletta Jonkisz, has won the Roy Pedley Award that recognises work by fashion and textiles students from Dudley College in the West Midlands.
First-year KU student, whilst at the college, impressed the judges panel with her fashion designs, innovative ideas and knowledge and won a £500 bursary as part of the award.
"I am very grateful for the award. Winning was very encouraging. It provided reassurance that there is potential and despite the unexpectedly challenging final months of the course, it certainly felt like a celebration of all the effort and time invested into finalising the project," Jonkisz said.
The award was launched three years ago in tribute to the former Rotary Club of Dudley president Roy Pedley, a local magistrate and a textiles expert who died three years ago.
"I feel like it is important to take up opportunities therefore it was a pretty easy decision to make as soon as I found out about the award, I put my application forward," Jonkisz said.
Pedley's son Andrew, told the Dudley News: "The award continues to be a really popular annual fixture with students at Dudley College and it showcases the brightest fashion, design and textile students in the area.
"Nikoletta had a collection of superb design ideas and concepts and is a worthy winner with a big future in the fashion and textiles industry."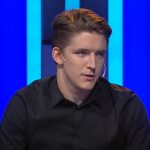 Journalism student from Kingston University and Editor of The River. Main interests: books, basketball and motorsports.