Kingston's Football first team came from behind to level 4-4 in a feisty encounter with local rivals, Roehampton, on Wednesday afternoon at Tolworth Court.
Karl McGinnes equalised within a minute after Roehampton took the lead.
A driven volley from captain, Garreth Chendlik, deflected of his back and found its way into the back of the net.
Roehampton respo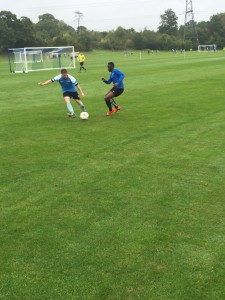 nded quickly and dominated possession for the majority of the half.
Their number nine, Sedrick Akey, scored two great goals that put Roehampton 3-1 up.
Kingston captain Garreth Chendlik said: "Today we had six freshers who had never put on a Kingston shirt and first half it showed after we went 3-1 down. We looked disjointed, we looked like we never played together and of course we hadn't."
However, Kingston tore Roehampton's back four apart at the start of the second half with a lovely move which saw Matt Stoten score a stunning back heel to make the game 3-2.
Following the electric start Kingston made to the second half, the tempo of the match dropped as Roehampton looked to build a spell of possession.
Roehampton increased their lead to make it 4-2. This spurred Kingston on as they began to drive in search of a goal.
Kingston had the opportunity to take the lead after Chendlik saw his shot clearly handled by Roehampton's Ahmed Mohammed who escaped the referee's book.
Kingston took advantage of Roehampton's sloppy defending and Chendlik made 4-3 by sending Roehampton's keeper the wrong way with a sublime penalty.
Seconds later Chendlik was fed down the left channel and picked out Josh Wright with a great low driven cross, who taped it in to make it 4-4.
Gareth Chendlik said: "Last year we had a really strong team with lots of really established players but this year we've lost them as a lot of them have graduated. When we were 3-1 down at half time it wasn't looking too good but I can't see any reason why, based on our second half performance, why we cannot win the league.