Kingston men's first recovered to beat Division Two side Essex 2-1 in the first round of the South Eastern Conference Cup on Wednesday in a game marred by a series of clashes at full time.
An already ill-tempered first-round match spilled over at the whistle minutes after both teams had been disciplined for an altercation between an Essex player and the Kingston second team who had just finished their game against City University.
Sensational goals from attacking midfielders Reece Carter-Allen and Saif Khan in the second half proved to be the difference between the sides and Kingston move on to the round of 32.
Coach Besim Ali said: "We got the win against a team that's two leagues above us with some really good individual players. It gives us really good confidence that we can go on a good cup run."
Essex, who are yet to win in Division 2B, started at a disadvantage due to their goalkeeper arriving late, meaning they played the first 20 minutes of the match with just 10 players and were forced to field a centre-back in goal.
Despite having the extra man, Kingston were not able to take the lead and tensions were running high when a tackle from Kingston midfielder Marco De Sousa infuriated the Essex coach.
Essex took the lead on the 31st minute by flicking the ball over goalkeeper Reece Harper.
Despite an evenly contested first half Kingston went into second half behind.
A heated conversation between the Essex coach and members of Kingston's coaching team seemed to be the start of all the tensions between the two sides and this continued on into the second half with many spats breaking out between the sides.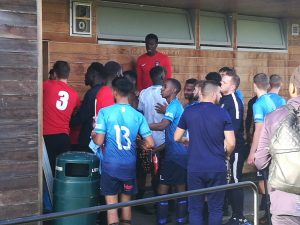 Kingston equalised on the 61st minute when Reece Carter-Allen managed to wrong-foot the goalkeeper when his shot disguised as a cross crept in.
Carter-Allen said: "We were 1 – 0 down and needed a bit more injection in the game, I just put it in the box and it happened to fly in."
Kingston completed the comeback with a fantastic Saif Khan free kick from more than 20 yards out.
The home side withstood late pressure from Essex just before tempers from both sides spilled.
However, an assured defensive performance from captain Oscar McMillan helped Kingston hang on and eliminate the Division Two side and progress into the second round.
Khan said: "After every training session I am always staying behind and practicing free kicks.
"We knew we had to put in a top performance and I feel we played much better than we usually do."
Ali addressed the post-match melee: "I said to the boys that behaviour like that is embarrassing because it does not represent us as a club.
"We try to be professional in the way we play so we should be professional off the pitch too. If you have won a game and the losing team is trying to vent their frustrations on you it is probably because they are trying to sabotage your chances of moving on."
Kingston, who are second after two games in the South Eastern 4C division, face London School of Economics Mens 2nd away from home in the league next Wednesday before a home game against Royal Holloway two weeks after.
"Winning the league is one of our targets, I am confident with the way we are playing because we are getting better every week and the results are good," Ali said.