Students and staff have been locked out of classrooms in the John Galsworthy building after a mysterious substance that can eat through metal has been found in the heating pipes, a plumber contracted by Kingston University said. 
The employee of M. Batchelor Services, a private plumbing company contracted by Kingston University Service Company Ltd (KUSCO), was repairing what he said is around the tenth leak in the building this year, which caused flooding under the classroom floor around plug sockets and wiring. 
He said: "They think there's something in the heating pipes that's eating through them, it's being sent off for analysis. We don't know what it is, this isn't something I've seen before."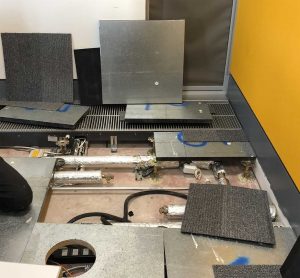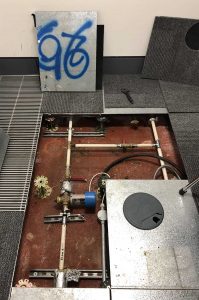 The £20 million building, which won a RIBA architectural award in the education category in 2007, is only 11 years old this month. 
According to the KU website, it is a "six-storey teaching and learning complex, including sustainable features such as rainwater harvesting".
Andrew Macdonald of Macdonald Bros Heating and Plumbing said: "If there was acid or something similar in the pipes, the problem would not go on for this long because at a certain point the water would replenish itself. 
"Personally I think they're sidestepping the issue of poor workmanship in soldering the pipes by sending samples off for analysis."
Macdonald said that in a building this size the voltage supplied is almost double that of a residential property, so a shock resulting from the water around plug sockets and wiring could be very dangerous, and even fatal. 
He said: "If it was up to me, if I was in charge of health and safety, I'd shut the whole building down."
A Kingston University spokesperson said: "The University's facilities management company, KUSCO, manages and maintains the John Galsworthy Building's systems, with the support of specialist maintenance contractors when required.
"As with any building more than 10 years old, there are times when maintenance works need to be carried out to keep systems running smoothly.
 "In such instances, KUSCO works in close conjunction with the University's estates and timetabling teams to ensure any potential disruption to students and staff is kept to a minimum."
KUSCO and the University have repeatedly refused to comment on what the substance might be, whether it is a risk to students or where the analysis is being carried out.