Students are fed up over delayed Knights Park refurbishments as work-spaces continue to be disrupted.
According to the Kingston University website the developments had initially been estimated to finish towards the end of 2019 but is now rumoured to be completed well into 2020.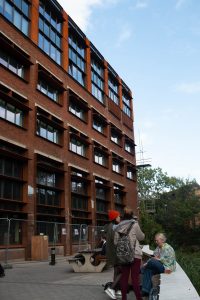 Fourth-year fine art and art history student Faith McKie said: "The 3D workshop is an integral element of Knights Park campus and for every course not just fine art. We use it daily, and without it open, it feels like my work has been forced to a standstill while we wait.
"For fine art, your practice could literally be anything, you can make anything you want, and some of us rely heavily on the machines, materials, and tools from the workshop in order to construct our work."
The University said the developments will enrich student learning experiences and maintain the University's award-winning status.
Additional routes to classrooms, the library and the student bar created with the intention to ease student mobility on campus have instead made it harder for students.
The 22-year-old art student added: "We can't access the campus easily. The direct route from our studios in the Avionics building (behind Middle Mill halls) has been completely blocked off.
"We have to take a side passage round to the front of the building rather than being able to enter where the workshops are at the back. Which if you're carrying heavy materials or artwork, it's a struggle."
Third-year graphic design student Linda Harmaala said: "It's a bit of a labyrinth if you don't know where you're going. I don't know if that will change when the renovations finish."
Construction began in 2017, and KSA students have been studying alongside the construction work ever since.
McKie said: "It's ridiculous that it's not finished yet. I remember construction starting in the latter half of my second year, and since then, I have studied abroad for a whole year, returned for my final year, and it's still not finished."
Students are particularly worried over whether the work will be finished in time for the degree show, as spacing and visibility plays an important role in their artwork.
However, third-year illustration and animation student Emily Noyce remains positive: "I'm not annoyed that I don't have access to it, because if the University is trying to improve itself, that's a good thing."
The £30m refurbishment itself serves to be a multifunctional edition to the campus.
A KU spokesperson said: "This work is part of a larger transformation programme intended to enhance students' teaching and learning at the University."