Irish band The Script played their New Album Release concert at Kingston PRYZM on Monday, November 25, to get back where they started off.
With their sixth album Sunsets and Full Moons out since November 8, the famous rock band started touring around England playing in smaller venues: "Welcome to this most intimate of intimate shows," said Daniel O'Donoghue, lead vocalist on Monday at the Kingston concert venue.
"We've started off with the places just like this, which is why we want to start off again. We absolutely love these shows! So we gonna go back to this favourites," he added.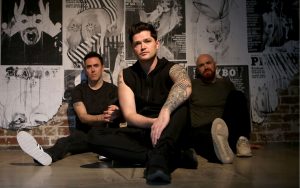 The trio had announced the official tour to begin in February 2020 when they will play on the big stages like O2 arena in London, therefore fans around England were very excited for pre-tour concerts in smaller places.
Publishing and English language student, Eden Graham, who attended the gig, said: "I thought they were really good, they engaged with the crowd a lot which is nice because I know quite a few people in the audience were long-time fans so getting that interaction must have been nice."
The Script played to the audience mainly the range of the newest songs, like The Last Time, Underdog and Run through Walls. However, with a loud satisfaction from the audience, they included some of the long-time hits from their playlist, such as Superheroes and Hall of Fame.
"'I had heard some of the new songs, I like a couple from the new album, but I like their old stuff better," added Graham.
Lead guitarist, Mark Sheehan explained: "Every song we write, we have this little challenge that it has to be based on the real-life scenario. That's the whole point of The Script as we want to use music as a punching bag when the things are going bad."
This style of music is what kept the faithful fans coming back to the concerts of The Script and buying their albums. It looks like the band has fans "who run through walls" for them and it was visible during the Monday performance, where the venue was filled with people of different age and fan level and was generally received as "an amazing performance."
The information about future concerts near you and around the UK can be found here, for all of those who want to give the band a chance at entertaining them with their life-based songs.