A few days ago I decided to sleep rough for one night to raise money for the homeless.
I remember browsing my phone, something most of us tirelessly (and regrettably) do every day, and finding out about the Sleep Easy fundraiser event hosted by the YMCA. It challenged the reader to give up on their comfort and spend a cold winter night on the streets of Kingston. Optionally, the attendee could also set up a fundraising page and encourage others to donate. Their motto was "sleep rough so others don't have to." I did not fully understand how sleeping in the cold could help anyone, but a voice echoed in my head telling me to just do it. So I did.
Before I arrived at the Memorial Gardens, where it took place, I did not have great expectations, because I think expectations change the perception we have of our own experiences. What I did imagine, however, was to see a lot of warm, friendly people with only several layers of clothing on and a thermal flask to get them through the night.
As I entered the church, I heard the sounds of ongoing speeches and performances. A young man read his story to the audience, musicians sang, spokespeople spoke, people clapped. I found myself wondering why they felt the need to entertain us before sending us outside to sleep "rough".
When we finally went outside, we were given a thermal flask and a big cardboard box to sleep in. As I wandered around the garden looking for the perfect spot to settle, I observed the crowd. I realised I was among big organised school groups and a few other groups of people – but I was alone.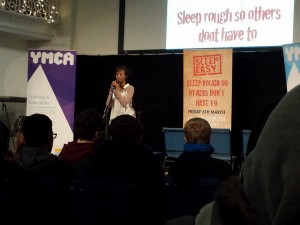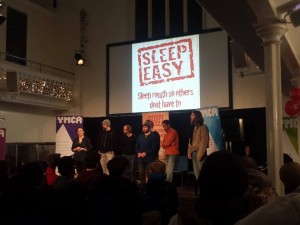 The teenagers were excited to spend a night with their mates and no parents around; and the adults were busy finding ways to make themselves as comfortable as possible. It all felt more like camping than anything else. There were pillows, blankets, yoga mats and other things designed to make the night less painful. Inside the church there were coffee, juice and soup. Whoever was too cold to stay out could sit inside or play table tennis.
Maybe this wasn't the brightest idea, I started convincing myself. I did not know who to approach and I started feeling lonely. But then I heard two loud, husky voices behind me. I looked behind my shoulder and saw two homeless people on a bench in the dark. I turned my face back, but then I looked again.  I decided to join them. As soon as I sat down, I was offered a cigarette, which I accepted as courtesy.
They were a homeless married couple whose faces carried many years of struggle. I was not shy to ask who they were and what brought them there. Their openness amazed me.
Rep was in his late fifties and he had short, grey hair. He told me he fought in the Falklands War, in Cyprus, as well as in Ireland. He said he got tired of fighting and decided to quit the army, but that he still carried the heavy weight of the lives he took on his shoulders. Louise was a short-haired woman full of joy and passion for music. She played the guitar and told me she loved Pearl Jam. Her favourite song was Yellow Ledbetter. I told her I did not have Pearl Jam in my playlist, but I could play Foo Fighters. As I put the song on, she started singing and dancing.
While Louise enjoyed the tune, Rep opened up to me. The couple had been on the streets for as long as I have lived, which petrified me. "Aren't you tired of wandering around?", I asked. Rep said he wanted to, but did not know how to do it. After two decades of homelessness, the idea of "normality" sounded like a utopia. He spoke about his family and his daughters, which he had not seen for years. I could read the sadness in his eyes as he continued.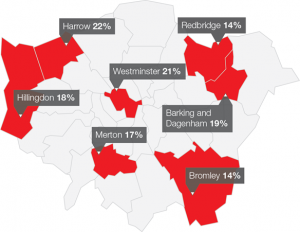 Leaving the streets is not as easy as one might think. Rep was a soldier and fighting was his craft. When he quit the army because the burden of taking lives became heavier than his conscience could take, he did not know what else he was good at. The psychological impact that those war zones had on him were greater than a man of his caliber would like to admit. Despite his past and his present, his integrity remained his greatest feature.
As the hours went by, the group got bigger and the immense respect for Rep was evident. He truly was a remarkable man – the "real deal" as they often repeated. A harsh man, but also very kind. Both of them were very popular among the homeless community, but Louise did not give much away about her deepest thoughts. She preferred to face people with a smile and positive attitude, but I knew that deep down she was a scarred woman.
The homeless of Kingston might not have a bed, but they have each other. All of them shared the same feeling towards the "campers" in the garden and the event itself – those people did not understand homelessness. And neither did I. I had not expected to understand it, because that would have been foolish of me. But I realised that raising "awareness" or showing solidarity towards a cause will not change anything. Spending a night with them will not either. I realised that this experience did not change their lives a single bit. But it changed mine, and that's the hypocritical side of our society. We feel awakened by this sort of experience, and we feel blessed for what we are and what we have. We are helping ourselves by trying to help others and it is a learning experience to be able to see the other side, releasing us from our own prejudgments. That is a remarkable thing, but one will never understand homelessness unless he is left without a roof.
After hours of hanging around Kingston and seeing life through their eyes, I left without a goodbye. I felt guilt and shame, even though it is not my fault I am privileged. I could not bring myself to say thank you or goodbye, because I had a bed and friends waiting for me at home – but they had no choice but to stay. I walked away with a bittersweet feeling. I was weak at that moment and I partly regret it. But I will never regret turning around and sitting on that bench with them. I will take that night and their kindness with me forever.