Hair is arguably one of the most important parts of Black culture with its rich history, the significant feeling of identity it brings and the way it can unite groups together.
However, something so natural as hair is still a point of discrimination for the Black community. Afro hair is often viewed as unprofessional in school and work environments and often you read a story on social media about a Black or mixed-race child being sent home from school because their natural or protective hairstyle goes against school policy. In such a way that your hair is styled affects your education.
A recent study by Dove found that a Black woman is 80 per cent more likely than a white woman to change their natural hair to meet social norms and expectations at work. Why is this and where does this pressure to conform to eurocentric beauty standards come from?
During the transatlantic slave trade, Black hair was dehumanised and compared to wool and the terms 'good' hair and 'bad' hair were born. This is where texturism came into play, the idea that looser, silkier, lighter and straighter hair is praised as it is closer to the eurocentric beauty standard. In addition, enslaved people used braids to plan escape routes, convey secret messages and hide food.
Although there have been natural hair movements in recent history, with the Black is Beautiful movement in the 60s being the most notable with Black people proudly wearing their natural hair during the civil rights movements, more needs to be done.
People in entertainment still feel like they must look and present themselves in a certain way to succeed and be accepted in the industry. For example, XFactor star Fleur East told Hello magazine that she was told she would not sell unless she straightened her hair, despite the need for representation and role models proudly showing their natural hair in the media.
Unattainable beauty standard
As a mixed-race girl growing up in a predominantly white area of west London, I was ashamed of my dark thick curls and now I wish I had some kind of representation in the media to have as a role model.
People running their hands through my curls without permission and getting moved to the back of the classroom because my hair was a distraction was a daily occurrence at school.
I longed to have silky smooth hair like my fellow classmates and would spend hours poring over magazines and watching tv shows wondering why my hair was not like the girls I was so used to seeing.
In secondary school I longed to fit in. Every day I would get up in the early hours of the morning and straighten my hair, now heat damaged and dry with years of bleach to make it lighter.
I was striving to achieve an unattainable beauty standard just so that I could be accepted among my fellow classmates and look like everyone else.
It took me years to finally learn to accept my curls, let alone learn how to protect and look after them, something which would have been impossible when I was younger due to the lack of information and resources in the media that I consumed.
Neccesary change
Additionally, problems stem from the fact that the National Occupational Standards for hairdressing only made it mandatory for all UK hairdressers to be trained in styling afro hair from June 2021, which is far too late.
People with afro hair are accustomed to paying higher than average prices for hairdressing services or having to come to an appointment with their hair already straightened.
In short, we need more representation of natural hairstyles and textures in the media so that young people can feel inspired, empowered and most importantly accepted with their natural hair along with education about the history of Black hair.
If you want to learn more, Abena Essah, a singer-songwriter and poet is visiting Kingston University. They were a part of Channel 4's documentary published last Black History Month, Hair Power: Me and My Afro and will be a part of a panel discussing LGBT+ experiences and spoken word poetry on Friday 22 October at 4-5:30 pm in room PRJG2010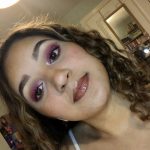 She/Her
Third-year journalism student at Kingston University
I like to write about sustainability, social issues, feminism and pop culture.