These cookbooks provide easy step-by-step instructions with lots of pictures to help kickstart your vegan journey. 
Isa Does It
This book has 150 vegan recipes by Isa Chandra Moskowitz with many you can make in 30 minutes or less, catering for the super busy.  
In Isa Does It the delicious recipes range from homemade alphabet soup that "hits the spot", to tempeh meatballs and spaghetti, and chewy peanut butter chocolate chip bars. 
The author also provides a personal touch with an anecdote for each recipe detailing inspirations and childhood memories of the meals prepared.
This cookbook has also received rave reviews about its simplicity. If you are beginning your vegan journey, this cookbook is the guide you need.
Vegan Richa's Everyday Kitchen
By Richa Hingle
Vegan Richa's Everyday Kitchen is a 140+ recipe cookbook that shares a tasty collection of comfort food, bringing different spices from all corners of the world to life. 
This cookbook has something for everyone and is allergy friendly with gluten-free, soy-free, and nut-free options.
These recipes transform your local takeaway favourites into vegan delights from around the world, including green curry fried rice, crispy sweet and sour tofu, and fettuccine alfredo.  
Richa Hingle described her take on vegan food: "I strongly believe that vegan food should be easy to make, taste good and be inclusive."
This cookbook takes your pallet on a journey and should be on your Wishlist.
BOSH!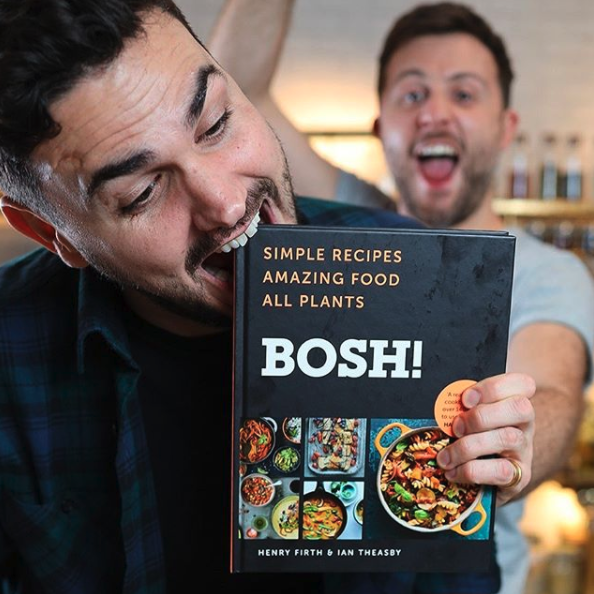 Henry Firth and Ian Theasby could be the "vegan Jamie Olivers". 
'BOSH!' is a plant based cookbook with over 140 easy meals that you can cook.
This book uses fresh supermarket-friendly ingredients for all the meals, to help make your cooking experience hassle-free. 
This cookbook has been praised for its vibrant pictures and incredible range of recipes.
They have added unique items such as sharing cocktail recipes, hearty dinners, and delicious desserts.