A KU student and Team GB representative won a silver medal at the British Junior Weightlifting Championships as she continues on her path to the Olympics Games in 2020.
Poi Fakcha, 20, came away with second prize in the 58kg category in what was her final competition as a junior before she steps up to compete with the seniors.
Fakcha, a third year business management student, has set herself the goal of stepping on the platform in Tokyo in four years' time, but has competitions before that in which she will be hoping to pull on a GB vest.
Fakcha said: "My current goal is to compete at the 2018 Commonwealth Games in Australia but every athlete dreams of going to the Olympics.
"Tokyo 2020 is definitely in my sights and I will work very hard to get there.
"The British Juniors was not my best performance. I lifted training weights and wasted my first and last attempts. I was very pleased to get a medal, although I am positive I could have won gold if I had got all my attempts."
As Fakcha was able to lift above a combined total of 115kg for her lifts, she won automatic qualification for the English Championships which will take place in Milton Keynes in January 2017.
The heaviest weight the 5ft 3, 9 stone athlete has ever lifted is 88kg which came in the clean and jerk exercise.
Aspirations of competing on the highest stage of them all in the Japanese capital would have seemed a long shot when she first entered the sport four years ago.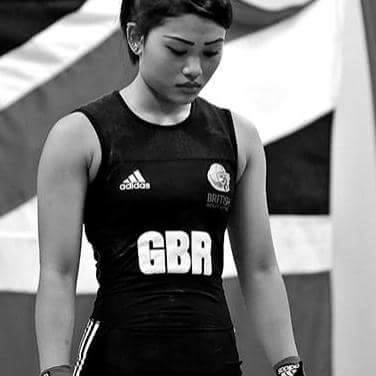 Fakcha, originally from Thailand, found the transition from playing as part of a team in Rugby League to being alone on a stage in weightlifting a difficult one and suffered badly from confidence problems.
Fakcha said: "In terms of confidence issues I struggled badly in my first year because I didn't know how to handle my nerves and pressures on the platform. It was a new sport with new techniques and different weight divisions, so I had a lot of things to learn.
"As I progressed in the sport my confidence grew and by the time I made my debut on an international platform in 2013, I had found ways that made me handle my nerves better.
"I've never felt stronger both physically and mentally. I can now go into a normal public gym to the weights without feeling intimated by anyone."
As well as conquering her big stage nerves, Fakcha has also managed to find the balance between her sporting career and her academic studies.
"I have a rough idea of what time I want to leave the gym and get home and how many hours I am going to study.
"It has become more routine and I am more efficient and productive with my time meaning I am able to get a lot of things done," said Fakcha.