2016 gave us some great social trends such as the mannequin challenge, hilarious Snapchat filters and streaming your day live on Facebook.
But now it's time for 2017 and here are the top three trends that you need to look out for this year:
The rise of women in films/TV
The film Hidden Figures saw a gross income of $54,833,100 during its first week. Main protagonists Taraji P Henson, Janelle Monae and Octavia Spencer portray the t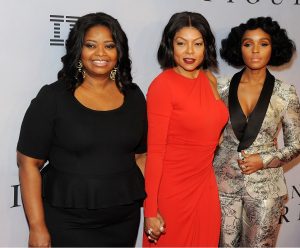 hree African – American women who helped NASA launch their first successful space mission. Tracee Ellis Ross won her Golden Globes for Best Actress in a comedy or TV show. Also this year, Gabrielle Union and Michelle Monaghan will play their main roles in action movie Sleepless. Keep an eye out on the ladies this year! Let's hope that just because it is women as protagonists, their main story isn't about their sexual appeal and how they cannot survive without a strong man in their lives because God forbid women be their own person in Hollywood.
2. New generation of YouTube
We all know YouTube has been a success for many years but 2017 is set to see a rise in YouTubers joining the social network.With the closure of Vine, internet celebrities turn to YouTube to showcase their talents. From Vlogging to tutorials, there is room for everyone on the site. Ten hours of video is uploaded to YouTube every day. Social media has been a huge help in helping young people share their creativity and talent, an option they wouldn't have had without the internet. Millennials are here to impress thanks to technology.
Getting paid for the 'gram!
Do you love taking selfies? Love posting on social media? Have a huge following? Well look no further because here is a job for you! Companies such as BooTea are using Instagram influencers to promote their latest products to keep their audience interested in their business. It's a chance for easy money as all you have to do is take a selfie and watch the money roll in. The more followers you have, the more money you will get. With around 500,000 followers, you can expect to earn $2,500 per post on a good day. It's effective when the majority of the population have Instagram and the younger followers are influenced by their insta-celebs.
With the top three trends to look out for, we also need to look at the top few trends that definitely needs to end this year:
Livestreaming on Facebook
There is unfortunately the option for everyone to livestream their day on Facebook, but the question is 'why?' If you're filming yourself eating or walking down the street, you need to understand that not one of your 400 friends understand why you felt it was needed. Keep livestreaming to famous people!
Kanye isn't the only culprit here. 2016 was the year of wearing purposely 'distressed' clothes and deliberately looking disheveled. If you're paying £300 plus on clothes that look like they have once been a dog's chew toy for the name of 'fashion', then maybe fashion isn't for you.
Dabbing
Considering that even Kansas congressman Roger Marshall's son was dabbing at Mr Marshall's swearing in, there is an obvious problem. There isn't much to be said about dabbing because it became old faster than it became a thing. If people are still doing this in 2017, then the New Year has already failed. Find a new pointless dance move to overuse at all hours of the day.
Endless Snapchat Stories
Of course in the day and age of social media, sharing every aspect of your life in 10-second videos on Snapchat is an inevitable thing. When it's 100 seconds long, and they are all of food, clubs, and someone trying to leave motivational messages in the forms of selfie videos, then understand that your stories are the ones that are ignored or are quickly
skipped through. It's simply not interesting.
Let us make 2017 a year where innovation and youth creativity is the main focus, not Twitter challenges and constant Snapchat filters.
By Nikki Onafuye and Zara Woodcock