Despite high team spirit and their best effort, Kingston University's women's lacrosse team suffered their worst defeat ever on October 18 when Royal Holloway crushed them 42-0. 
KU coach Joe Nicholson was satisfied with the Cougar's effort. "The girls put a 110 per cent effort in. They did not stop going, even considering the score. That deserves credit," Nicholson said. "They just need more confidence."
The Cougars fought hard but got off to a bad start. The visitors scored the first minute and then kept scoring nearly every minute of the first quarter when Kingston found themselves 11-0 behind. The second quarter the Cougars went to the field with more energy, but by halftime the guests had a 20-0 lead.
Royal Holloway played a quick and energetic game, with several experienced players on the field. The university has three women's lacrosse teams and the Cougars met their 1st and best team at KU ground Tolworth.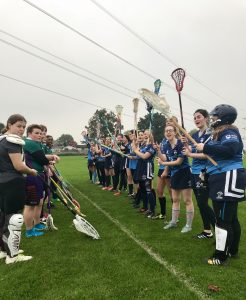 KU captain Sasha Boyko said: "We played against the most experienced team in the league, and some of our girls have only played three hours of lacrosse before in their life," she said.
In the second half of the game, Kingston's defence got stronger and the teamwork improved, but the goals kept coming in for the guests.
"The girls ignored the score and kept playing and doing their best. It's only our first game, we have so many left to improve on. Now we need to build up for next game," Boyko said.
Despite having the numbers against them, the lacrosse women had positives to bring home from Tolworth.
"It is our first game of the season, and a lot of freshers played. They tried their hardest and were amazing. Just a great start of the year. Maybe the score wasn't amazing but for us, it's a win," Boyko said.