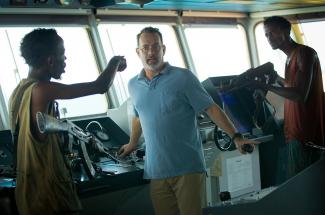 Film has the ability to take you to another world, a world that can make you forget reality for a couple of hours.
This year, at the BFI London Film Festival you can be transported to outer space or back in time to the 1960s. All are worlds that can stretch your imagination thanks to some incredibly talented filmmakers.
Unusually, this year's festival is dominated by films starring one of the most diverse actors of the decade, a man who is capable of playing an animated cowboy one minute and a lone castaway the next.
Diverse actors
Tom Hanks opened the festival on Wednesday with the European Premiere of Captain Phillips. He stars as the captain of a U.S. container ship hijacked by Somali pirates.
Captain Phillips is the latest from British filmmaker Paul Greengrass director of United 93 and the Bourne Supremacy.
The Closing Night Gala is Saving Mr Banks starring Hanks as Walt Disney alongside Emma Thompson as the author of Mary Poppins, P.L. Travers and is based on the production of Mary Poppins during the 1960s.
Both films are expected to receive Oscar nominations next year.
Oscar nominations
This year's guests include actor Ralph Fiennes (Skyfall) and Alfonso Cuarón (Harry Potter and the Prisoner of Azkaban).
Fiennes will be hosting a screen talk at the BFI on October 18 about his career as an actor and director.
Cuarón will be joined by his visual effects supervisor from Gravity, Tim Webber, to discuss the ground-breaking effects used in his new thriller.
Talented filmmakers
Gravity stars George Clooney and Sandra Bullock as stricken astronauts who are separated from their shuttle.
The closing night gala of Saving Mr Banks will be screened at selected cinemas across the country.
The BFI London Film Festival is from October 9-20.