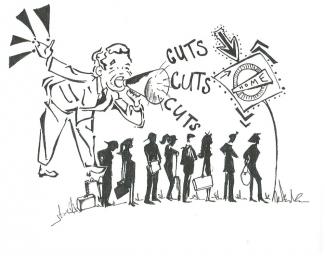 Okay, let's talk education.
Ten days from now, our university staff join lecturers nationwide in a strike for higher wages and better pensions.
Education has been hit hard since the recession, with a 13 per cent pay cut in real terms since October 2008. This year, the people responsible for teaching the future generations of this nation received a laughable one per cent pay rise.
The one per cent offered by the government to lecturers, technicians and administration in higher education is worth taking a closer look at. Statistics show that the annual minimum pay for a university professor is £33,000 a year. After doing some simple maths, I figured out that with the 1 per cent pay rise, that makes it an extra £330 a year. That's less that £30 a month and not even enough for a meal out for a family of three. I mean, McDonalds can't even do it.
…and you're still wondering why they are striking?
I am sure every maths lecturer will agree with my calculations, and to be honest, you don't need a PhD to see that the pay rise does not do much when competing with the rising costs of living.
When 165 institutions in Britain are striking on October 31st that is their way of saying to the Government: "We're not going to put up with this."
In my opinion, teaching is one of the most important professions, arguably even more so than doctors and lawyers, and I am surprised that a government in the 21st century choose to ignore this. Teachers and lecturers are responsible for the future, and that should mean something to David Cameron and the rest of the cabinet working for a worthy prospect for this country.
Being a student, I think I speak for many of us when saying that the quality of the education received while at university became a top priority when the tuition fees were pushed up. It surprises me that the government justifies forcing students to pay a higher price for their degree, but can't justify paying the people who makes this degree achievable.
Personally, I know that I will have a big loan haunting me for many years after walking out of Kingston University with my diploma in hand. Because of that, knowing that I have had high standard lecturers who are proud of their profession to help me achieve my goals and grades is absolutely vital.
Quality is key, and let's face it, Mr Prime Minister, with a one per cent pay rise, you are not going to reach the standard expected by students and parents in the UK.
Focusing on savings and cuttings is well and good sometimes, but trust me, if you mess with the people who hold the nations' future in their hands, you are going to get scorched.