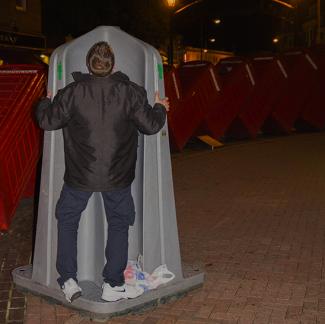 Portable urinals placed in Kingston for male clubbers to use while out on the town collected 465 litres of urine in one weekend.
The temporary 'pop up' toilets seen on Clarence Street, Cromwell Road and by the red phone boxes on Old London Road are placed in the evenings and then taken away by the early morning to stop clubbers from urinating in the streets or in private gardens.
KU nursing student, Rebecca Bradshaw, 20, said her boyfriend has used the urinals on their nights out: "Stuart loved the idea of having urinals there because he normally finds it embarrassing to urinate in public especially when he's drunk.
1,640 users
"It's not a good sight to watch someone having a wee in public but since it happens really late at night and it avoids men urinating on buildings and in alleyways, Kingston will be a much cleaner place."
Lucinda Raggett, Operations Director of Kingston First, said: "So far 1,640 people used the urinals. The trial was made possible by grant from The Mayor's Office of Policing and Crime (MOPAC) fund. Kingston First, which works to improve the business district of Kingston town centre, says it has received positive feedback about the plan to reduce public urination in the town centre at night.
Government investment
Ms Raggett said: "We are currently looking for other sources of funding that will allow the facilities to be brought into town again during peak times.
"Not one of our most glamorous projects, but definitely one that has been dealing with an anti-social problem common to many towns and cities."
Temporary solution
Kingston First is looking for feedback from residents and businesses to decide whether to bring the initiative back or find a more permanent solution.
According to Kingston Guardian, one of their ideas includes investing between £50,000 to £60,000 in a 'pop-up' urinal that fits into the ground during the day and is pulled up at night.