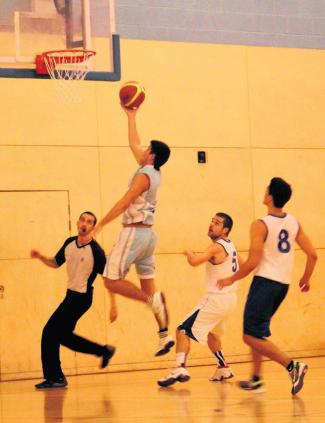 Kingston Cougars men's basketball picked up where they left off last season with a gripping 83-80 victory against LSE.
The first game of the season for the Cougars saw a packed Kingston College Arena cheer on the home team to a cagey, yet quietly confident win against a lacklustre LSE.
"I think we had a lot more fire," said Kingston captain Alex Polis. "We had a lot more energy and the team were scrambling for the ball. We wanted it."
Nail-biting game
The Cougars were eager to start the season with a bang and looked determined throughout. Sam Odejemi looked particularly impressive, with 14 points in the first quarter alone, and Anthony Sison proved to be a key player, making several show-stopping three-pointers. Alexandros Geromoschos also made some intelligent plays, setting up Jamie Sercombe and Odejemi for some attractive baskets.
LSE frequently challenged the Cougars – with Daniel Segoin and Giovanni Graglia in particular playing well defensively – but they were also very wasteful, making some sloppy fouls and looking poor on the break.
Impressive performance
The game was nail-bitingly close throughout, with the Cougars coming off at halftime with a 1-point lead of 38-37. It wasn't until the dying seconds that the victory was cemented, when LSE choked their last two free throws that could have brought them back into the foray.
Speaking after the game, Polis insisted there was still lots of work to do: "We need to work on fundamental things: stuff that doesn't go on the stats sheet."
Perfect start
Despite the victory, Polis seemed disappointed that the game ended up as close as it did.
"We now know what we need to work on. The second time we play them we should beat them by a lot more."