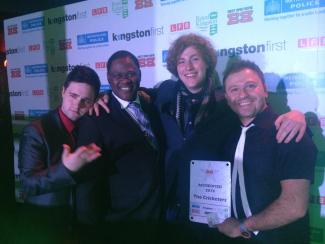 This week the Kingston Best Bar None awards celebrated some of the best venues in the borough.
The glamorous event in its eighth year was held at Hippodrome on Tuesday evening with staff from venues in the town centre attending.
The deputy Mayor of London, Stephen Greenhalgh, alongside the head of Kingston council, Liz Gree, took part in the ceremony and delivered speeches congratulating Kingston on its night-time economy.
The evening was hosted by cheerful entertainer Miles Crawford and 18 pubs and clubs received a Best Bar None accreditation.
The hosting venue, Hippodrome, received the best club award.
Working alongside the clubs and pubs are the street pastors who won the award for "best contribution to night-time economy".
The organisation has volunteers on the streets at the weekend to offer support to those who have had too much to drink.
Paul Jacobs, coordinator of the Kingston street pastors, said: "I feel really good about it, I think it's a thank you to the team for what they do and I think it's a really nice thing to do. It's nice to be recognised for doing something that is useful to other people."
Drop in crime
Efforts to make Kingston a safer place were also recognised after the borough was named the safest in London by Metropolitan police this year.
Jacobs said he had noticed a drop in violence but pointed out that Kingston is not a violent borough and that a small drop in crime has a big impact.
"I think when you have the number of people who come into Kingston there's always going to be incidents when there's alcohol involved," he said.
Full list of winners:
Best Club: The Hippodrome (runner-up: McClusky's)
Best Pub: The Ram (runner-up: Druids Head)
Best Behind the Bar: Woodys
Best Atmosphere: O'Neills
Best Independent Venue: Acorn 20
Best Staff Member: Simon Goodman, Bishop Out of Residence;
Best on the Door: McClusky's;
Best Contribution to Night-time Economy: Kingston's Street Pastors
Accredited venues:
The Cricketers, Hippodrome, Bacchus, The Ram, Prysm, Barcadia, Acorn, the Druids Head, the Mill, Bishops out of Residence, Ama-Gi, McCluskys, the Kings Tun, Space Bar, Knight's Park Bar, Woody's, Slug and Lettuce, O'Neills.