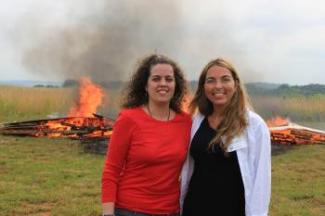 From reel-to-real, forensic science student experienced the real life of Dr Temperance Brennan aka Bones, during her 42-day-course at University of Tennessee's Forensic Anthropology Centre.
Maura Struppl, 42, third-year forensic science and investigative analysis student applied for the extremely competitive course in Knoxville, Tennessee not knowing she would get accepted. She studied three different subjects- human identification, field methods and forensic taphonomy.
She said: "People from all over the world are exposed to the practical aspect of forensics. They take in only 10 to 12 people per course and there are only 3 or 4 courses per year.
"We learnt everything from the beginning like how to approach a crime scene in the real world and how to create a sketch of the victim. They replicated situations of the crime scene to make us understand and learn better.
"We also had osteology lessons about the bones and we learnt whether the inflicted wound was peri-mortem or anti-mortem. We also had a chance to compare human bones with animal bones and understand the difference between them."
The first of its kind, the centre was founded by Dr William Bass in 1981. The human remains that are donated to science are either buried or placed to embody an actual crime scene.
Looking death in the eye
The centre is home to the Bass Collection, which catalogues around 1,000 skeletal remains. Describing it as the life-like version of shows such as CSI and Bones, Maura said that the university attracts experts from all over the world.
"The farm had the top anthropologists, archaeologists and entomologists who worked in the field in mass disasters. Some of the lectures dealt with identification, so we met experts who were still working on identifying the missing people from the 9/11 attacks," she said.
Maura, who is originally from Brazil worked as a criminal lawyer before moving to UK. She was always interested in working with the police, therefore she found an inclination towards forensics and anthropology.
"For me it is harder to see somebody dying, than just see a dead body. It was normal as I prepared myself beforehand, therefore I felt like I had already been there. If I saw a child it would have probably been different."
She felt that the university was supportive of her achievement and her superiors provided her with references. However, when she requested for a grant from the university they rejected it and she ended up spending £3000 in total for the trip.
"When I applied, I told my superiors that I was also creating an opportunity for other students who studied forensics here. If Kingston would be linked with the University of Tennessee, then they would benefit from it."
Maura encourages future forensic students to apply for the course, as it sheds light on the practical aspect of forensics better. The mother of one is now using the work from the body-farm for her dissertation on methods to find out the sex of children's skeletal remains.