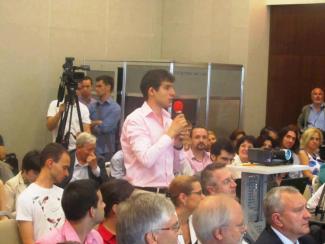 Bulgarian and Romanian KU students are worrying about a government's decision to freeze some student loans.
The anxiety arose after Universities minister, David Willetts, said that he would suspend loans from the Student Loans Company (SLC) after a "suspicious" rise in the numbers of students applying to higher education from Bulgaria and Romania.
The government's decision to freeze the maintenance loan, a loan offered to EU citizens who have lived in the UK for more than three years, for Bulgarian and Romanian students comes after allegations that many are applying without being entitled to do so.
Dimitar Dimitrov, 21, a third-year KU politics and international relations student from Bulgaria, said that he had been without a loan or a working permit for 10 months and had struggled to support himself.
He said: "If I don't have the social security that I am entitled to and no way of making money, how am I supposed to support myself?"
No more maintenance loan
The restriction by the government will not freeze the loan the students have to pay towards tuition, but the additional non-refundable money allocated for living costs.
The concern from the government follows a report showing that one in six loan applications for the maintenance loan now come from Bulgarian and Romanian students, and that as many as three quarters of the students involved have so far failed to prove they are entitled to their loans.
Dimitrov came to the UK to study in 2011, but cannot apply for a maintenance loan until August 2014, which is after he has finished his BA.
"Most students I know don't want to apply for the maintenance loan, because we would rather support ourselves by working," said Dimitrov. "But when the government won't let us do that either, that is when it gets hard."
Working restrictions to be lifted
Dimitrov explained that he had been looking forward to January 2014 when the working restrictions for Romanian and Bulgarians in the UK would be lifted.
He added that he was scared this would not happen now because of new government talks and a Daily Express campaign aiming at further restricting working permits for Bulgarians and Romanians.
A university spokesperson said: "To date, the University has not been informed about any Romanian and Bulgarian students currently at Kingston who have had their loan payments suspended or refused."
The British Embassy in Sofia released the following statement: "Because of an unexpected sharp rise in applications for maintenance loans from students from Romania and Bulgaria, these loans have been suspended as a precautionary measure whilst applicants provide further evidence of eligibility.
"All EU students residing in the UK will be asked to provide additional information before receiving their next payments."