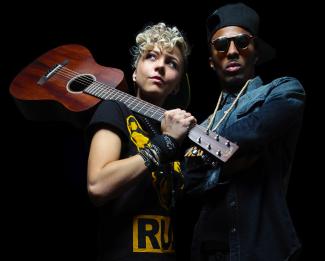 Charlie Rundle laughs as she says she honestly can't remember a day not being into music: "My mum said I came out of the womb making a racket!"
Rundle and Simeon 'Sim' Dixon, together make up the X Factor duo, MK1, who appeared on the 2012 show. Despite being voted out on week three, the urban hip-hop pair have been successful and are currently touring the UK and Ireland. Just like me and you, Sim and Charlie are two ordinary young people, who made their passion reality.
The X Factor has given the multi-talented two experiences they will never forget. But what is their best memory since the show? "Waking up every day pretty much when I want to!" Sim jokes.
They auditioned for the talent show with their mash-up of Tinie Tempah's Written In The Stars and Emeli Sande and Professor Green's Read All About It, which now has over two million views on YouTube. But would they recommend others to audition in the future?
"Completely go for it," Sim says. "Really and truly the X Factor can do wonders for your career, as long as you stay true to who you are.
"I get stopped by strangers every day telling me how they felt we should have won the X Factor. The support has been immense," he adds.
Do your homework
Sim recommends that you study the industry hard if you are looking to burst onto the music scene.
"Really research who's who and what's what," he exclaims. "At the same time, develop your craft by doing open mics and showcases. Learning to network is so paramount."
Sim was able to understand a lot about the industry after studying music industry management at Buckinghamshire University.
Charlie left college to move to London to fulfil her music dreams. When she is asked if she regrets not continuing her education she replies: "No fricking way!"
Mayhem
The duo's tour began in November and will reach London, playing north London's Camden's Barfly on Chalk Farm Road on December 10.
Sim, 26, says fans should expect 'absolute mayhem' on their tour, which will feature new unheard material. He adds that an arena tour is definitely on the cards for the future.
"Playing our own city is one of the best feelings I think. It's a lot more tense and nerve-wracking, but that in turn makes it much more exciting!" Charlie, 20, says.
The duo, who were mentored by Louis Walsh on X Factor, are currently working on their debut album and hope to release it in early 2014. They were able to work with producer Jake Gosling, who has credits with Ed Sheeran and Paloma Faith. Sim describes the experience of working with him as 'overwhelming'.
"Jake Gosling is such a great producer and really understands the MK1 vision," Sim says.
Their single, Let Go, is now available to buy.