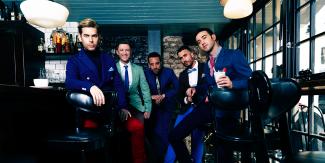 The Overtones have quite literally made their mark on the world – or on their fans at least.
Mike Crawshaw, who makes up one fifth of the vocal harmony group, explains: "One girl came up to us and was like: 'Can you each draw some stars on my arm?'
"We were rushing after a gig and our tour manager is like: 'Come on we have to go.'
"So we scribbled these stars on thinking after a couple of showers these things would be gone."
The 33-year-old says that he and fellow band mates Timmy Matley, Mark Franks, Lachie Chapman and Darren Everest bumped into the fan again the following year.
"She had these stars tattooed but like identical. These things looked like a five-year-old had done them. It was awful," he recalls.
For Bristolian Crawshaw, the newfound attention he receives from fans – and the responsibilities that come with it – are something he has taken in his stride as the success of The Overtones has skyrocketed in the past three years.
Their debut album Good Ol' Fashioned Love and its follow up Higher spawned a series of hits and the group has just released their third studio album, Saturday Night at the Movies.
"When we record an album we sit down in a room and start talking about possible songs we might be able to include," Crawshaw explains when talking about the initial process of creating Saturday Night at the Movies.
"It quickly became apparent that a lot of the songs that we were choosing were from movies like Pretty Woman and Breakfast at Tiffany's."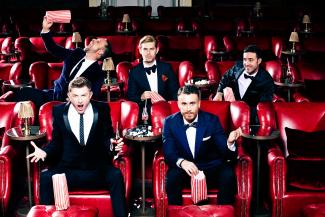 He says that this led them to realise they could have a whole album covering tracks from their favourite films. Crawshaw's current favourite song on the album is Do You Love Me from Dirty Dancing.
However, he says it was not until he started performing the track with dance moves that he began to love it.
"I got that kind of feeling, you know when you are performing and you kind of think 'yeah, this is what it's all about' with that one," he says.
The group was also fortunate enough to collaborate with soul legend Beverley Knight on the track Hit the Road Jack for their latest record. Crawshaw says that the experience was "incredible".
"She just walked in, screamed out these incredible notes while we were all just sat there with our mouths wide open, jaws dropping. It was unbelievable," he says.
He adds that he was also left gobsmacked when he met Tom Hanks at the Queen's Diamond Jubilee celebrations last year.
"He came up to us and was like: 'I loved your set guys.' We were like: 'But you're Tom Hanks!'"
With the festive season upon us Crawshaw says with a grin that he is looking forward to Christmas.
"Normally at this stage of the year we would be touring but our tour this time is going to be in March so we've actually got a bit of a Christmas, which is nice," he says.
He admits, however, that he has not yet done any of his Christmas shopping.
"I probably should get my ass in gear," he laughs.
Saturday Night at the Movies is out now.