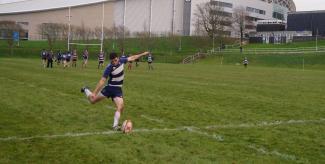 Josh Robinson and Phil Wood were both sin-binned as Kingston slipped to a 15-11 defeat at league leaders Brighton.
In a very physical encounter, Kingston's ill-discipline cost them a valuable three points.
Captain Dan Phoenix said: "It was a chop and change team with some new faces, but I still felt we could have won it. Our discipline let us down badly."
The early exhanges saw Brighton enjoy the majority of possession and have some early opportunities, and they were first on the scoreboard.
The ball was ripped in contact and quick hands saw Brighton's winger beat three defenders to go over in the corner, giving the hosts a 5-0 lead before they missed the conversion.
Kingston were able to bag their first points shortly after. A useful box kick from Phoenix was followed by a good chase to force Brighton's full-back into touch. Brighton were offside at the line-out and Moldovan international Craig Felston kicked the penalty to make the score 5-3.
Kingston's defence proved stubborn for the remainder of the half.
"Our defence was solid," Phoenix said. "The first tackles were great but we needed to be a bit smarter at the break down."
At the end of the first half, a loose kick from Brighton failed to find touch and allowed Kingston winger Jack Tearle and full-back Murphy to launch a counter-attack.
A penalty was awarded after Brighton were guilty of playing the ball off their feet, and Kingston centre Josh Robinson was shown a yellow card for dissent after appealing for a Brighton player to be sin-binned.
Felston kicked the penalty to put Kingston into a 6-5 lead going into the interval.
Felston hit the post with a drop goal at the start of the second half before Brighton's hooker went over for their second try, which wasn't converted, leaving the score at 10-6.
Inside centre Phil Wood was the second player to see yellow before 14-man Kingston allowed Brighton to crash over for their third try.
The Brighton kicker was again unable to add the extra points from the conversion, leaving the score 15-6.
As Kingston went back to 15 men, Murphy went over in the corner for their second try, but Felston was unable to convert the resulting kick.
Phoenix was left to rue the two yellow cards, which hindered his team's victory charge.
"At the beginning of the match the referee said that he didn't want any bad language or back chat and we didn't adapt to that."