The mother of missing KU student Ciaran Caulfield said he has been found and is "well".
The first-year mathematics student, 19, was found early this morning but had last been seen on Wednesday near KU's Penrhyn Road campus.
Ciaran's mother Julieann yesterday pleaded for the safe return on her "vulnerable" son – and shared how her "world has come to an end".
His distraught mother Julieann Caulfield said: "I don't know where to begin. I'm absolutely devastated. I'm suffering. I'm grieving. I feel as if my whole world has come to an end.
"I just love that boy unconditionally, and I just want him to be home with me, his father and sister. We love him dearly so much.
"He's obviously afraid. He's not in trouble. We can help him."
She added that her husband has flown from their home in Bahrain to Kingston to join the search for their son and said the police have opened a missing person's case.
Fears were raised for the student's safety and well-being when he failed to contact his family since last Sunday.
Ciaran, who suffers from mental health issues, spoke to his family every day while at university, his mother said.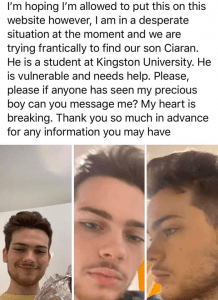 She added: "When you've got someone who will be in a state, it's potentially a matter of life or death."
Mrs Caulfield believed that an incident at his halls of residence on Penrhyn Road might have pushed the already "vulnerable" student over the edge.
Ciaran has been described as 6ft with an athletic build and has brown hair, a beard, and blue eyes.
His mother had urged a close female friend of her son's, believed to be named "Cat" or "Kat", to get in touch.