Artwork of three KU students was seen by a Tate Gallery representative on Saturday's private view at Cre8 gallery in East London.
Third-year photography students Leanza-May Bayacbacao, 21, Emily Sowerby, 22, and Thea Lovstad, 21, displayed their most recent artwork at an exhibition in Hackney Wick attended by guests who included a Tate Gallery staffer.
"Tate is one of the most powerful art institutions in the world so of course that was incredibly exciting," Lovstad said.
Sowerby added: "I just wish I could have met him, shook his hand or something."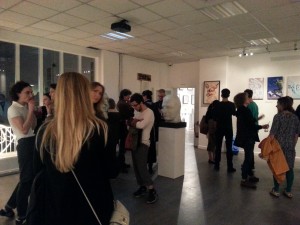 The actress and daughter of Ray Winstone (The Departed, Hugo, Noah), Jaime Winstone, was also one of the guests at the private view.
Bayacbacao was doing performance art by covering a large wall with black, pencil drawn lines. Winstone was seen drawing on the wall early in the evening.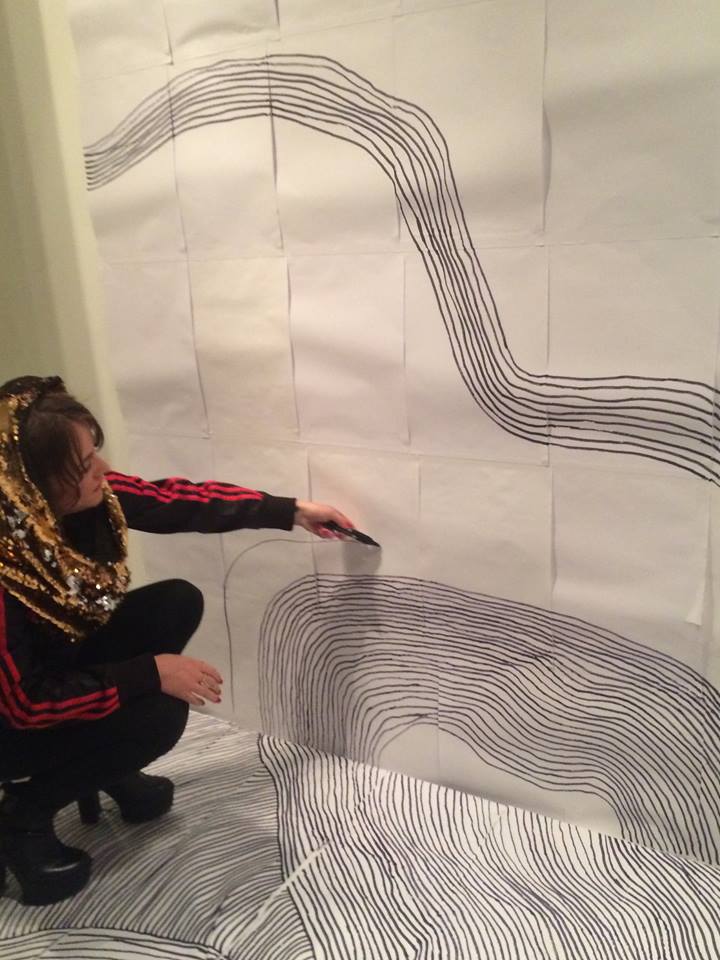 "She was the first person to come speak to me whilst I was doing my performance," Bayacbacao said. "I thought it would be interesting to have people involved within my artwork so I asked her to create a line."
The performance piece will be destroyed when the exhibition ends.
"It's an ephemeral piece of work," she said. "It's something that can't be sold or repeated.
"I love this idea of spending hours and hours creating something then in the end just destroying it and leaving no trace behind."
The creative students had very different concepts and ways of expressing themselves.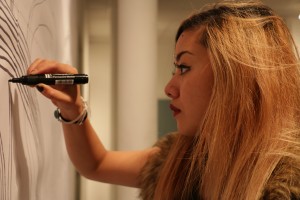 Lovstad said her photograph was inspired by Scandinavian nature along with global issues and concerns.
"It's about the modern human body wanting to 'rewild' in a time when more or less everything is man-made," she said.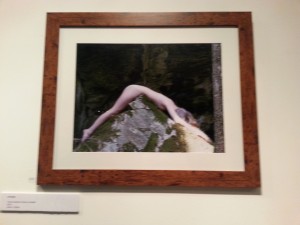 Sowerby exhibited three photographs, but instead of using a camera, she had explored the most primitive technique of photography- light and paper.
"I explored the theme of nature versus industrialisation and our affect on the world around us.
"This piece depicts the lifecycle of blossom flowers via a technique that only uses light and paper," Sowerby said.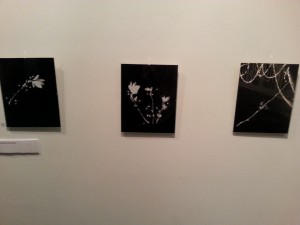 The three of them agreed that meeting other artists was the most exciting and important experience they had during the private view.
"Exhibiting work is a great way to get your name out there and a good opportunity to get some new contacts," Lovstad said. "Networking is definitely Alpha omega in this industry."
Bayacbacao confirmed this theory: "The curator is a friend of mine and we both worked together previously. She approached me about the exhibition and I thought it was a really exciting opportunity."
The exhibition ends October 25.