Kingston's Biomedical and Save A Baby's Life societies collaborated on October 25, throwing a Halloween party for retiring Biomedical Science lecturer, Dr B. Steve Robinson.
The party was thrown at the Mill pub in Kingston and was originally a way to raise awareness of the 'Save A Baby's Life' society, but then became a group effort to celebrate Mr Robinson.
SABL society president, Mikhail Javaid, said: "It's Dr Robinson's last day and we're throwing him a little party. We're doing it in collaboration with the Biomedical society because he was the course director for Biomedical Science."
The party was planned two weeks before the event, and the students persuaded Dr Robinson to attend.
As he was both a course director and a lecturer, students expressed their sadness at the lecturer's decision to leave.
"I know he has a huge history with the Biomed society. He's prepared us for many Christmas parties and other events. He's always been there to back us – to promote us inside and outside of lectures," Biomedical society secretary, Tarique Dawkins said.
Dr Robinson joined in with students singing 'Hey Jude' on a karaoke track while the party continued.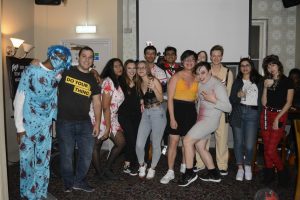 A round of applause was given at the end to tribute Dr Robinson, who thanked his students.
Dr Robinson said: "I was the course director for many years. But now that I'm retiring I've handed it over to Dr Gould. I feel very honoured by the students. They're very good students, I've enjoyed teaching them and I wish them well."
He also added his reasoning for leaving Kingston is to pursue other interests but stated that he will still work by doing external examining and working for the Institute of Biomedical Science.