UPDATE: Since the story was published in the printed version of The River on 25 October the Sopwith Building has been opened. Kingston University sent out an email to all students which said:
"The Sopwith building has now reopened following closure caused by a power outage incident on Sunday 20 October – all the necessary health and safety checks have been completed. The power to the building is being supplied with the use of a temporary generator. The building will be open in line with normal operating hours, with some minor restrictions on the availability of portable heaters, which will be communicated locally by the Faculty. Any further updates will be posted on MyKingston. Thank you all for your patience while we worked to resolve this, and a particular thank you to the members of staff who were involved in the recovery operation for their rapid response."
***
A Kingston student with a heart problem stayed away from University amid fears that an emergency generator on campus could stop his pacemaker working.
Raamy Mohammed fears a huge emergency generator brought in following a power failure at Penrhyn Road could affect the device which regulates his heartbeat.
The Sopwith Building in Penrhyn Road was closed this week after a giant fuse blew, cutting power and disrupting the lessons of hundreds of students. Staff with pacemakers were told to work at other campuses as engineers worked around the clock at the site to fix the issue.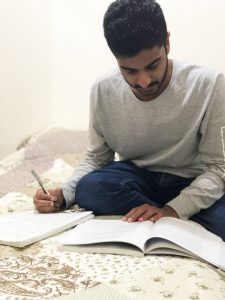 Mohammed, who has had a pacemaker for over 10 years due to a low heartbeat, said: "I'm not entirely sure what the electric field can do, but I understand it can reset the pacemaker to default which could be very bad for me. "I received a message from my tutor who told me she was worried as she had heard that someone who had a pacemaker had been told to stay away.
"I didn't realise there was any danger to me as the University hadn't said anything. I was planning on going in on Wednesday but because I was not sure what the risks were around the generator I didn't go." Mohammed, a third-year English language and criminology student, said he was not upset with the University but thought he should have been sent a message that people with health issues should be aware.
The River received information on Tuesday that a staff member with a pacemaker had been told to work from a different campus temporarily as the generator could interfere with it.
Mohammed, 21, said: "I've studied here long enough to know that the University cares about their students and their wellbeing, but I find it odd that they haven't considered that students also might have pacemakers."
Students were first informed about the power outage on Sunday night after an electrical problem caused a major fuse to blow in the Sopwith Building. Due to the building closure, some classes were postponed and some lecturers sent podcasts and videos of teaching to their students.
The University emailed all students on Monday saying: "We are installing a temporary generator in the car park. This may result in a short-term loss of parking spaces on the Fassett Road side of the building and a humming noise once the generator is operational."
A technician said to The River on Wednesday: "I'm going around now and testing the lighting and everything else in the Sopwith Building. If it passes the security tests, they should be able to open the building on Thursday."
Jason Panzo, a biomedical science student said he was shocked that his lessons were cancelled: "Our lecturer sent us a video we could watch and that's not as useful. It's better when the lessons are face to face."
Another biomedical science student said that she was angry as all of her classes were cancelled: "It's inconvenient because now all of our lectures have been moved to after reading week and we will spend twice as long on our studies. We don't have a timetable now. We have what is being called independent study time instead. I'm really annoyed," she said.
Neha Yasmin had her classes cancelled on Monday and was initially happy as she did not need to come in, but thinks her education has suffered as a result. She said: "I am the kind of person who learns more by going to the lectures instead of learning by myself. Not having my classes is hard for me."
A spokesman from Kingston University said: "Full testing of the electrical and alarm systems is currently taking place ahead of the building reopening."The University is not aware of any health risks associated with the installation of the generator."
"Kingston University takes the health and safety of its students and staff extremely seriously and encourages them to always follow the advice of their medical specialists regarding any precautions they should take."