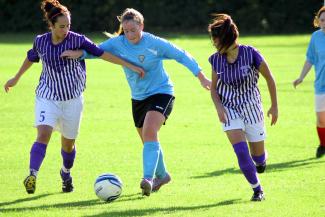 Tottenham ladies' stars Rosie and Mollie Kmita shone for Brighton University's ladies 1st team as they thrashed Kingston ladies 1st team 7-1 in a very one-sided affair on Wednesday afternoon.
A stunning hat-trick from Rosie was the highlight of the game as a disappointing performance from the home side means they still await their first victory of the season.
"The result reflected our inexperience as a team," said captain Naomi Ponting. "We lacked a lot of fitness and our confidence dropped after the first goal."
Crushing defeat
Brighton took a deserved lead after 20 minutes with Rosie Kmita heading in a brilliant cross.
A second goal quickly followed from striker Megan Thompson after Kingston failed to clear a Mollie Kmita corner which Thompson slammed in the back of the net as Kingston trailed 2-0 at the break.
Things went from bad to worse for Kingston in the second half as Brighton stepped up a gear with Captain Orla Diamond heading Brighton's third from a corner.
Disappointing performance
"I think we played really well today," said Diamond. "I'm very pleased with the team's performance, especially Rosie, although she plays at such a high level so it was expected."
Rosie completed her hat-trick with a goal either side of the hour mark to make it 5-0 to Brighton with the first, a fantastic strike from the edge of the box after good link up play with her sister Mollie, the pick of the bunch.
A penalty from Kate Donnan made it 6-0 to the visitors before Kingston got on the scoresheet through centre-back Lianne Davidson's bundled effort to make it 6-1.
Room for improvement
"We tried to play good football but unfortunately Brighton are a very good team," said Ponting. "We need to work on our positioning ahead of the next game."
Brighton made it 7-1 to cap their dominating victory, which included hitting the woodwork twice, after Diamond headed in her second from a Kmita corner minutes before the final whistle.
"We've maintained our unbeaten start to the season, which is good," said Diamond. "Overall, I feel we were much stronger than Kingston and deserved the win."