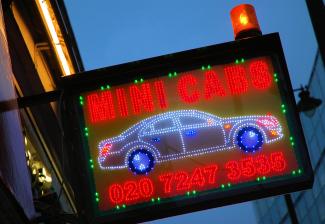 Police have warned students of the dangers of accepting lifts from unmarked taxis in the run-up to the festive season.
Police have engaged with schools and universities to raise awareness in an attempt to crack down on illegal cabs that could present a danger for young people trying to get home.
They said: "Never approach a minicab on the street or accept a fare; they are acting illegally. Even if they are licensed by TfL, only black cabs can pick passengers up on the street without a booking.
"Always book it with a licensed operator, and when it arrives check the driver's photo identification."
VP student life, Lizzie Carse, said: "Over the last few years KUSU has been part of a Transport for London campaign called 'Cabwise', which raises awareness of the possible risks when using un-booked or unlicensed minicabs, and offers alternatives."
This winter Transport for London (TfL) helped to crack down on un-booked minicabs with their annual 'Safer Travel at Night' campaign which aims to make young people – with a focus on women – aware of the dangers of getting an un-booked minicabs off the street.
The campaign has been running for 10 years, and is aimed at women aged 18-34 who travel after 10pm in London – who are more likely to become a victim of minicab-related sexual offences.
Risky
A survey conducted by TfL, for the campaign, found that almost a third of women said that getting home was the priority, and that they didn't care how they did it.
Tfl echoed the Police's statement: "Any minicab that isn't booked through a licensed minicab operator is dangerous and puts you at risk of attack, including sexual assault and robbery."
In September, Kingston was named the safest borough in London – with individual crime rates falling over the year, including rape which dropped from 60 incidents to 59.
However, sexual offences rose from eight incidents to a staggering 100 reported.
Kingston Council has been running the campaign Safer Kingston Partnership for the last two years with KU to raise awareness about sexual violence.