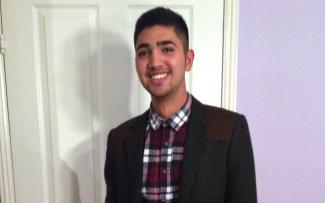 It's the last week of term and the last street style before Christmas. Grab some inspiration from these trendy three and have some ideas of what fashion items to add to your Christmas list.
Mix & Match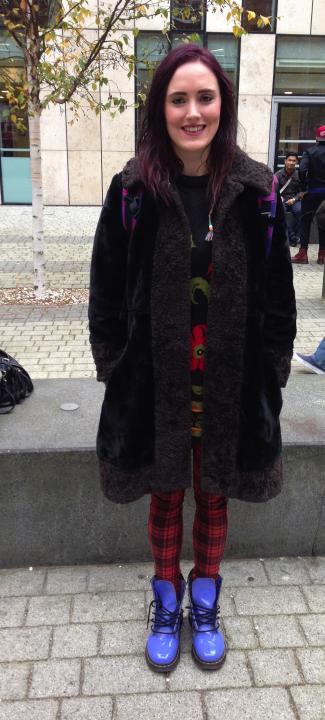 Name: Samantha Dixon
Age: 22
Third-year sociology student
Coat: Vintage
Jumper: Vintage via eBay
Leggings: Topshop
Boots: Dr Marten
Mixing and matching vintage with high street has been popular amongst KU students this term. This goes the same for tartan. Daily, Kingston fashionistas have reminded us that tartan has been a big trend for this A/W and it doesn't look like the trend will be going anywhere soon. There is still time to jump onto the bandwagon!
Fashion tip: Don't be afraid to mix bold colours, keep it simple with another dark-coloured item like Samantha so it doesn't look too over the top.
A Transitional Season Essential

Name: Ronan Tegala
Age: 20
Third-year biochemistry student
Shirt: New Look
Blazer: New Look
Jeans: River Island
Shoes: Primark
Blazers are a great item to wear inbetween seasons and can be easily layered so you can keep warm as we move from autumn to winter. It is an essential piece for any male or female wardrobe and can be worn any season.
Plaid is an essential item for your wardrobe. It can be dressed up, as seen here, or dressed down. Plaid gives that little extra bit of colour to an outfit if it contains a lot of dark winter shades.
Fashion tip: Skinny jeans can be worn at any occassion with any footwear any time of year, male or female.
Faux Fur Hat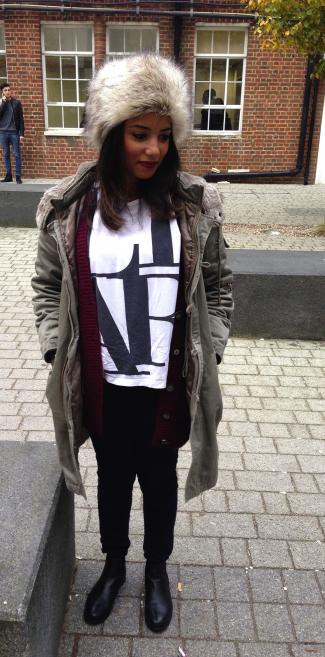 Name: Aliyah Jeilani
Age: 19
First-year journalism and English literature student
Jacket: New Look
Hat: New Look
Jeans: New Look
T-shirt: Forever 21
Boots: Topshop
Cardigan: Primark
Russian hats give that extra bit of glamour to an outfit and Aliyah pairs her hat perfectly with winter colours khaki and burgundy. Now there is no need to travel to Russia to find your own as high street stores, such as New Look or Marks & Spencer, have them on sale right now.
Fashion tip: A winter parka is an item you can wear year after year and it never goes out for fashion. If you are looking for the perfect long-lasting winter coat, the parka is the one for you!