Kingston University student nurses have stepped up to the front line to help battle the virus, as the spread of Covid-19 continues.
London's hospitals are under pressure and Mayor Sadiq Khan has repeated his plea to people to stay at home and not to put the NHS under more strain.
Student nurses have been contributing their efforts through work placements in hospitals which have continued as part of their ongoing learning.
KU student nurse, Lisa Ncube said: "I was in a department that specialised in acute assessment care. So, patients from emergency would be sent to us, where we would review their condition and work with a team to decide whether they need to go to a specialist ward or whether we discharge them."
Another KU student nurse, Sam Godfrey said: "At the start of the pandemic I decided to work for the Priory Group on an acute ward supporting adults with mental health illness.
"This was also during the time our service users also caught Covid-19, to which we had to then adjust and support service users during their recovery from that too."
A balancing act
Ncube has found ways to cope with the circumstances and keep a balance between her work placement and her personal life.
"During placement, especially in a pandemic, it consists of spending the day on placement for the allocated time, then coming home and de-stressing by cooking, watching Disney plus, or having a wine night (when I have the day off, of course)," said Ncube.
Godfrey also sees the importance of balance: "Personally, I have been well, keeping myself busy, with exercise, reading, podcasts, keeping in touch with family and friends."
Online learning still remains a part of student nurses' lives when they're not working in the hospital.
Godfrey said: "At the moment I am on placement that the university has arranged as part of my ongoing learning. I am currently working with the Forensic Outreach Service team at Springfield Hospital.
"I also have had online studies via Microsoft Teams and had some small group sessions at Kingston Hill."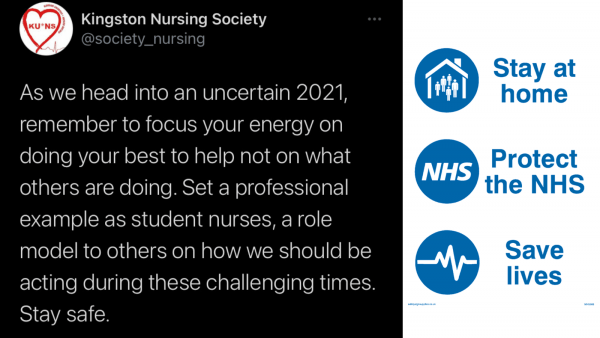 Kingston University have been supporting their student nurses with their studies as well as work placement, which plays a vital role in their degrees.
Both Ncube and Godfrey acknowledge that the university have had to adapt to the difficulties which Covid-19 has thrown at both KU staff and students alike.
"The university has had to adjust too, so I commend them for keeping our studies up to date and in line with the current curriculum as much as they can, as we all know how difficult it has been with the unknown of the current situation," said Godfrey.
Ncube said: "The university has been great. That's because I only give them the tip of the iceberg on what's going on. Sometimes, I become so busy and when faced with obstacles that frustrate me, instead of letting the university know the full extent, I only give them very little.
"The very little I give them, though, makes them do twice as much as I expected, so I'd imagine if I gave them the full extent, they'd really help."
'We must stick together'
Student nurses Ncube and Godfrey are uncertain about the future whilst they continue to study in a pandemic and with the healthcare sector struggling.
"I feel quite nervous and scared. Personally, I have my own plans to work outside of the hospital environment, but I guess no matter where you go, the pandemic will be there.
"I also do feel overwhelmed at the notion of not being qualified enough, as the circumstances have made it harder to catch up on the usual activities that benefit our learning," said Ncube.
Godfrey said: "In this setting, you seem to forget what is happening in the world, this is due to the fact I seem to put service users first. All I can do is keep myself safe by following the government and the university guidelines, which then keeps others safe too.
"Whatever happens in the future, we must stick together, talk to one another and adjust accordingly with the current guidelines."
You can find out more Covid-19 information for nurses on the official Health Education England website.