A KU gold-medal wheelchair racing student who trains at a specialist training facility in Norbiton has opened up about her disability, training regime and representing Great Britain.
Eighteen-year-old Eden Rainbow-Cooper has used the facilities at the Weir Archer Academy (WAA) for nearly eight years, training alongside Paralympian David Weir, and praised how good the academy has been.
"My aim is Paralympics, world records if I can," the first-year sport science and business student said. "Medals are great, but I think that shouldn't always be the main focus. You've got to push yourself to the point you feel comfortable.
"It builds confidence a lot because there aren't a lot of positive role models in any sense of the term for any disabled person… so coming to a place where there are a lot of older role models and younger generations coming through that we can be role models to is really encouraging to the future of athletics, disability sports and just disabled people in general."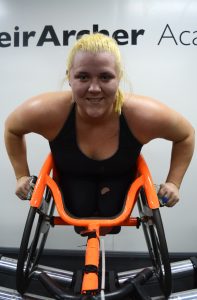 Tania Gallagher, Chair at WAA, said the academy recently received new funding which was donated by London Marathon Charitable Trust and Abbot World Marathon Majors and others.
All of the monies received have been used to provide the new club training facility.
Rainbow-Cooper was born with sacral agenesis, which means that the bottom parts of her spine are missing, so her nerve and muscle growth are underdeveloped.
She is currently number one in England for track events such as the 100m sprint in wheelchair racing.
At the age of 14, she represented Great Britain abroad in the Brazilian School Games, where she won three gold medals, and she has also competed in two junior world championships.
"The first one, unfortunately, I just missed out on medals on all of them. I came fourth, but the second one I got silver medals in all three of my races which is great," she said.
Rainbow-Cooper is not the only KU affiliated athlete at the academy.
Print Technician, Simon Walkington said his son, who he did not wish to be named, also uses the facilities at the academy and would love to be an athlete one day.
"My son would love to be an athlete on the track but doesn't always have the belief in himself. The facility is fantastic for anyone that is disabled and may want to try something different in their lives.
"Not everyone gets to train with arguably the most famous Paralympian, David Weir, who is possibly the equivalent of David Beckham in his world," he said.
The academy has seen a couple of budding athletes go on to success, and gold-medal winner Weir and his coach, Jenny Archer, set up the academy to raise the diminishing numbers of those who take part in wheelchair racing.
Weir said: "The idea was just to start something…I felt like I needed to do something because no one else was."