[dropcap]Video by Chloe Wright[/dropcap]
A new powerlifting society aimed at people who want to start the sport is coming to KU.
Lauren Cory, 20, who studies illustration animation wanted to bring a sense of community and teamwork to lifting to Kingston.
Cory previously competed at Scottish and British juniors, as well as in the A final at BUCs.
"I do recommend powerlifting as part of other sports as that is how I got into it. I did rowing at a national level for four years, and I was recommended to do powerlifting alongside it to boost my speed and strength.
"I have known American footballers, rugby players and swimmers who also lift to help their main sport," said Cory.
Inspired by a YouTube channel, she started powerlifting two years ago.
She eventually got a lifting coach and started to compete. Consistency is key with your training, she says – eventually, results will show.
Cory said: "The benefit of powerlifting is that it changes you physically. It's better than cardio as it burns fat and builds muscle. It makes you feel really strong, both mentally and physically, while keeping up your fitness."
Powerlifting is a strength sport that consists of three attempts at maximal weight on three lifts: squat, bench press, and deadlift.
Cory currently squats 100kg (15.74 stone), benches 60kg (9.44 stone) and deadlifts 160kg (26.19 stone) so her combined lifting total is 320kg (50.39 stone).
"My advice to potential powerlifters is not to be scared to go to the gym and just try the lifts out. Also, ask people who lift already to help as the community is always willing to help in my experience," said Cory.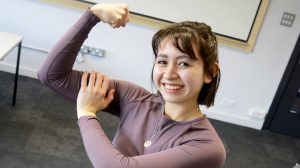 There are many different videos online with workouts where people interested in this sport can learn how to do squats, deadlifts and bench properly without having a personal trainer.
"Powerlifting was definitely very different from what I was used to in training, however, I found it exciting and kept wanting to get better. I found it easier than cardio, and I used Youtube and websites to understand each lift," said Cory.
Powerlifting is not a sport which would be difficult to find time for. All you need to have is a gym with basic equipment and be keen enough to work on your progress.
Cory said: "The training is flexible and can work around busy schedules, especially as a student because when you go back home, you can continue training as long as you have a gym nearby."
Her normal training routine starts with ten minutes of stretching. After she warms up on racks, and does two main lifts for each session – either squat and bench or deadlift and bench.
The last part of the session was accessory lifts targeting individual areas that complement the bigger lifts.
"I quit rowing as people in my team started to forget that it was a team sport, and started being more and more selfish when it came to competitions. I find powerlifting a much better atmosphere and a lot friendlier, especially at competitions," said Cory.
Cory hopes to win the World University Powerlifting Cup and wants to create a greater sense of teamwork around such an individual sport.
If interested in powerlifting, contact Cory on her Instagram: @laurenliftsprogress or @kulifting.